In news that should excite not only Overwatch fans but all esports fans in general, German broadcaster Sport1 have partnered with Blizzard Entertainment to have live Overwatch League coverage on television sets in Germany, Switzerland and Austria.
The two-year agreement will ensure that the Overwatch League is broadcast live on the ESports1 pay-to-watch channel. The channel will broadcast the Overwatch League and the Overwatch World Cup.
The announcement comes shortly after Sport1 revealed that it was set to create its own esport channel – Esports1. The channel will run 24/7 esports coverage and will show all the major live Overwatch events in 2019.
As you can see in the image below, although German news searches for Overwatch have been declining overtime, Overwatch and Blizzard games in general remain very popular in Germanic countries.
Why should esports fans be excited by this news?
Of course, regardless of whether esports are on television channels or not, it is thought that the majority of fans will still watch their favourite esports via live streaming sites such as Twitch. However, having more broadcasters buying the rights to showcase esports to an audience that would not usually watch them, is without a doubt a positive thing for esports.
For one, it attracts new fans – like any sport, fans are at the core. Without fans, sports would not exist past the recreational level. Secondly, more fans tuning into esports helps increase the viewership numbers thus ensuring that esports becomes more and more attractive to potential investors.
Overwatch is not the first esport to be picked up by a television broadcaster. South Korea has had its own television channels dedicated solely to esports for several years now. FIFA esports has also been broadcast on television sets in Britain and in the USA.
Overwatch by the numbers
Although Overwatch cannot currently compete with the likes of League of Legends and CS:GO in terms of viewership, it does still remain as one of the most regularly played and popular esports around. The end of 2019 saw the average viewership on Twitch for Overwatch average at around 20k per day. Since the turn of the year, however, these numbers have crept up towards the 30k mark, as the data below portrays.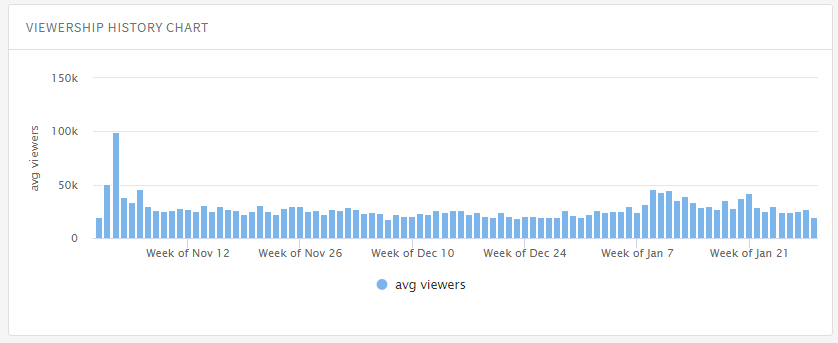 Whether or not Sport1 can attract more esports fans to their television channel than Twitch can remains to be seen. However, as you can see by the huge spike in the third column of just below 100k, Overwatch can attract a large number of fans, especially when a major tournament is being broadcast.
Odds to win the Overwatch League 2019
If you are a Overwatch betting aficionado, the latest odds for the upcoming 2019 Overwatch League have been revealed and are as follows:
Excelsior + 250
Spitfire + 300
Fusion + 600
Shock/Titans + 800
Gladiators/Dynasty + 1000
Valiant + 1300
Fuel/Spark + 2500
Eternal/Dragons/Defiant/Outlaws + 3300
Reign + 4000
Charger + 5000
Uprising + 6600
Mayhem + 8000
Justice/Hunters + 10000