This wasn't a game meant for the PS4. I have such negative feelings about this title that I only have two reasons to praise it. So let's get into those right away.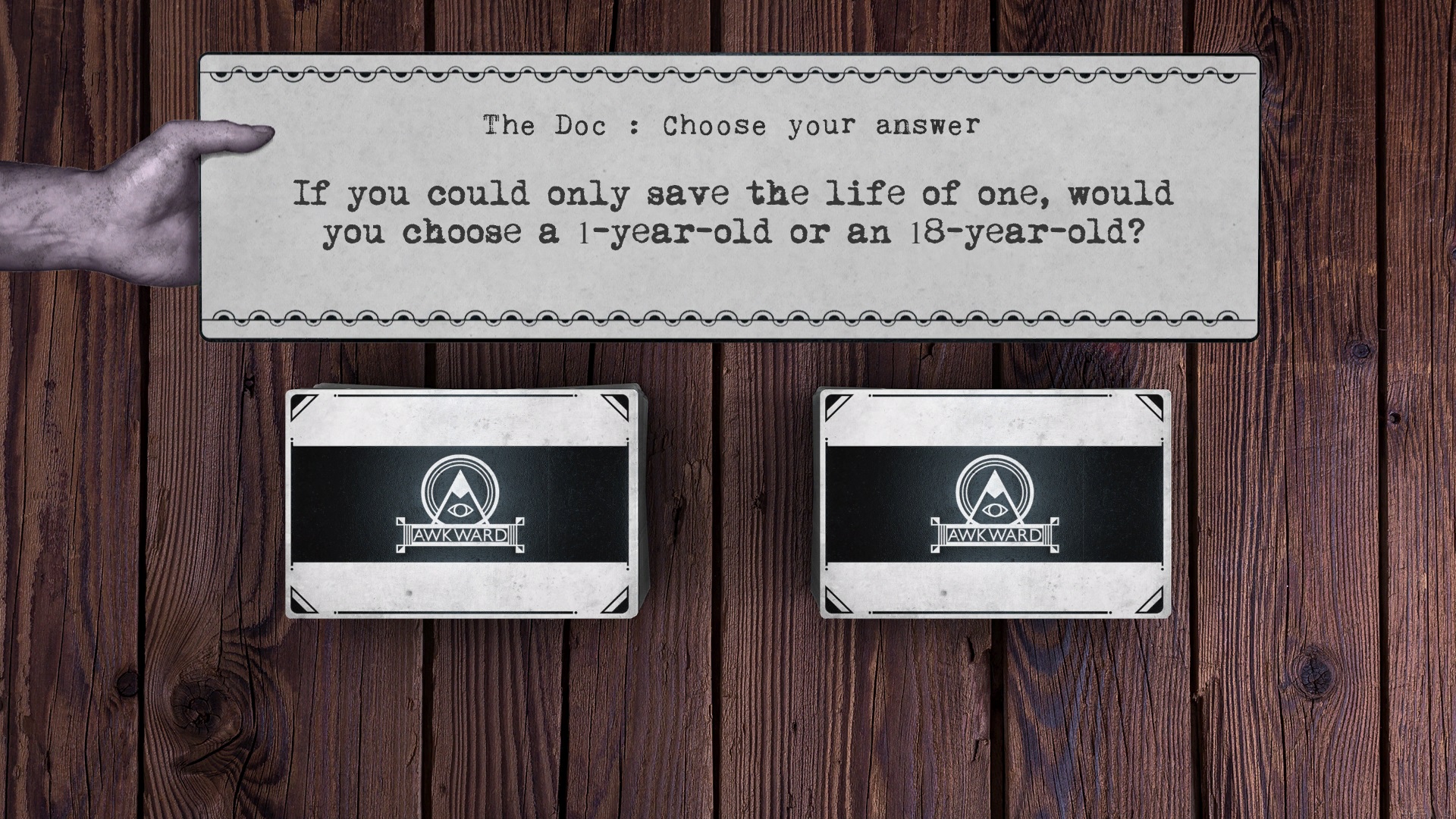 ---
Platform Reviewed: PS4
Platforms Available: PS4, Xbox One, PC
Developer: Snap Finger Click
Publisher: Snap Finger Click
Release Date: June 5, 2018
MSRP: $11.99
This review is based on a review code provided by Snap Finger Click.
---
One, there's a bit of effort with how the game looks. They literally used classic historical pieces of art and added their own touch to it – by that I mean the one male figure in every round where they just slap-dashed a few silly faces on him.  Although a tad lazy, I will appreciate it.
Another would be that it actually caused an argument between me and my girlfriend. The reason as to why this is important is because right from the start, I was warned that the game could cause rifts between friends and relationships. Well, it certainly did that for a bit. Hats off for the in-game warning.
Other than that? Awkward felt exactly as its name implied. I didn't have much fun and neither did the missus.
The game consists of 3 different rounds, each with at least 2 or more questions. The first 2 rounds consist of normal questions, but the juicier ones end up in the last round. You can play this alone or with your friend/friends for a maximum of around 6 players. While there are modes where you can switch things up by having teams or different pairings for every round, that's the most you can get out of the multiplayer.
Let me tell you this: It's not fun playing it alone.
If you decide to do so, then you'll only be comparing your answers to those online. Although it is nice to see the percentage of the answers people chose, you won't really gain anything from it. Rather, it makes you feel even more alone.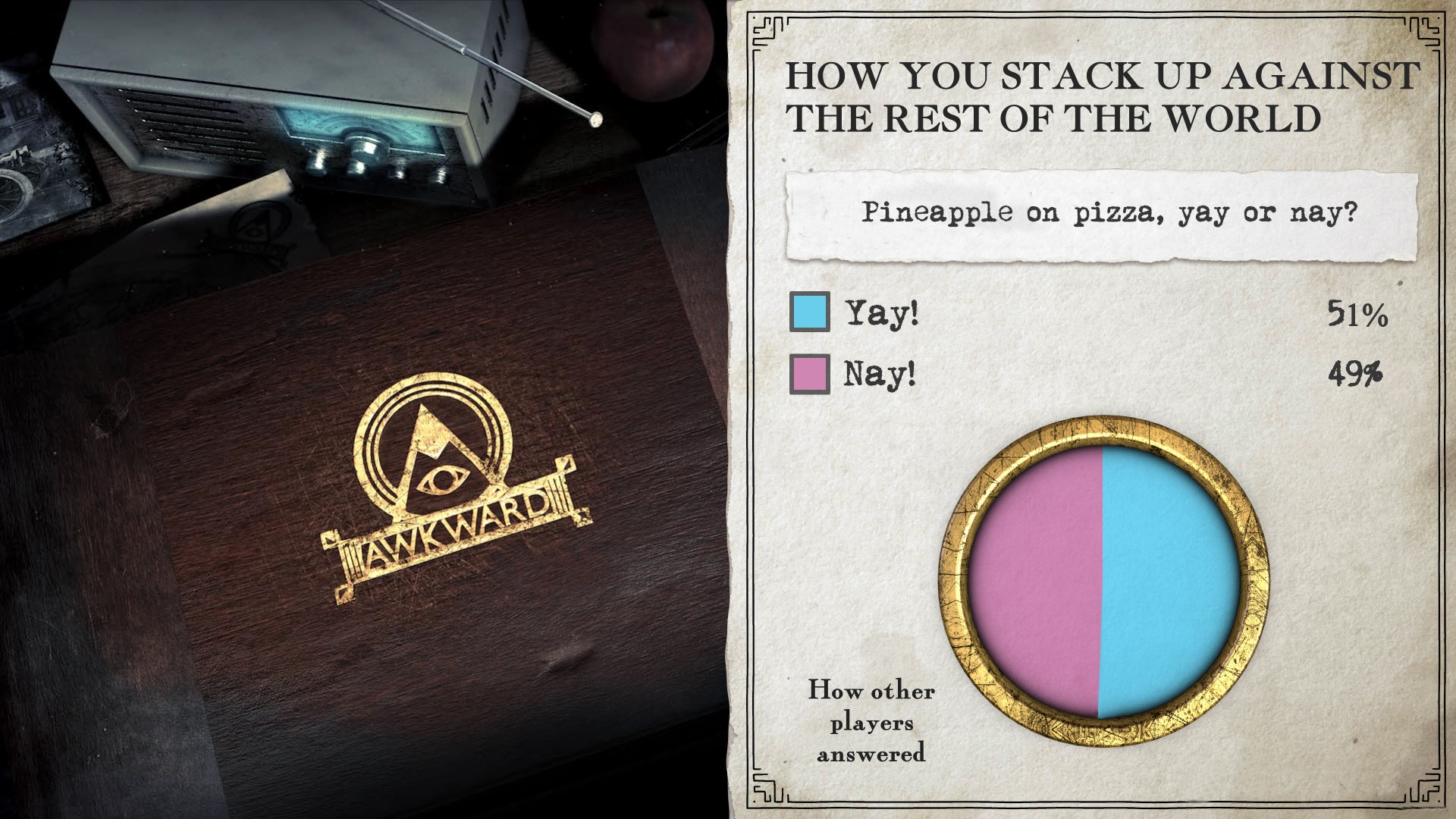 Now how does one play the game? Each question consists of 2 sequences. The first is where one player chooses his or her answer. While this is happening, the rest of the players aren't allowed to see what answer this person chose. The second sequence requires the next player to guess what answer was picked. Think of it as a glorified guessing game to see who knows the other better.
The game expects you take turns passing the controller around to choose and guess answers for every question. Do you know how awkward (heh, get it?) it is for everyone to look away from the player holding the controller or the screen to avoid cheating?
You can do this just as easily if it were a mobile game with much less hassle. Although it did provide a quick laugh, that's all that it did. It didn't make me want to go back, and the questions repeated way too quickly; this diminishes whatever replay value it should have had.
If you want something like this game but with more content? Then I suggest you go through Google Play store or the iPhone App Store to find one. They're bound to have way more interesting party-question games that you'll have a lot more fun with.
Score Definition
You'll be left out with a "meh" after finishing the game. What game did we just play?
Pros
Does what it intends
Great pieces of art
Cons
Inconvenient gameplay
Very little replay value
Simple question game