As we head deeper in 2018 for another hit gaming convention in the Philippines, PLDT and Smart Communications have announced their participation yet again at Electronic Sports and Gaming Summit (ESGS) 2018, organized by Gariath Concepts, on October 26 to October 28 at the SMX Convention Center, Pasay City.
PLDT Home Fibr and Smart were last year's co-presenters at the event and they're making a comeback this year. Providing the most stable connection throughout the events for tournaments, both companies are gearing up for another round. Ever since the beginning of ESGS way back in 2013, PLDT Home Fibr and Smart have been big supporters of the massive annual gaming convention.
Gariath Concepts is proud to announce the all-new Early Bird Promo. Attendees will get a discounted ticket price of PHP. 150 per day if you get the Super Early Bird Promo tickets from June 1 to July 31. From August 1 to September 30, attendees will get to avail the Early Bird Promo tickets for only PHP. 180.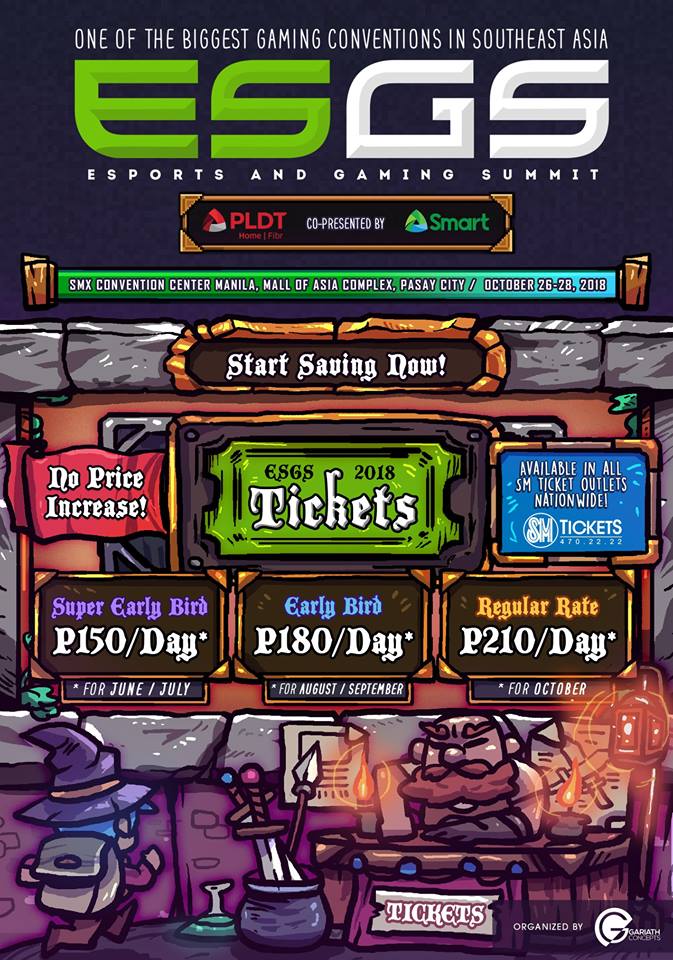 For other news, it's been confirmed that Kojima Productions is going to be at ESGS this year and we might get the chance to see – over get to play a demo – of Hideo Kojima's new game, Death Stranding.
Tickets are already available for purchase at any SM Ticket outlets across the country. You can also buy the tickets online on SM Tickets.
For more news and announcements, please stay tuned here on Sirus Gaming, ESGS' Official Website, and ESGS' Official Facebook Page.