Final Fantasy XIV: Endwalker is nearly here and there's so much hype for FFXIV going on right now that even the servers are having issues keeping up. There's a lot to go through but we're going to cover as much as we can here.
There have been several post-release updates for Final Fantasy XIV, including four major FFXIV expansions: Heavensward (2015), Stormblood (2017), Shadowbringers (2019), and the upcoming, Endwalker (2021).
FFXIV: Endwalker Release Date
When is the release date of Final Fantasy XIV Endwalker? The release date of Final Fantasy 14's 4th expansion is set for November 23, 2021.
FFXIV: Endwalker Early Access Date
When will FFXIV: Endwalker's early access period start? Early Access for Final Fantasy XIV Endwalker is set to begin on Friday, November 19, 2021 at 1:00 a.m. (PST), giving players the opportunity to play FFXIV: Endwalker before its official release.
How to gain access to FFXIV: Endwalker's Early Access?
Only players who managed to pre-order the expansion will be able to play Endwalker a few days early. Here are the instructions on how to redeem Early Access Code (Pre-order Bonus Code):
PC (Windows / Mac)
Log in to the Mog Station using the Square Enix Account you want to use for the Early Access once you have your 20-digit Early Access Code (Pre-order Bonus Code).
On the top-left corner of the screen, click the "Your Account" tab.
Choose the Service Account for which you want to register your code. If you have multiple Service Accounts (represented by tabs labeled FINAL FANTASY XIV 1, 2, and so on), select the Service Account to which you want to register your code. Proceed to Step 4 if you only have one Service Account. Be cautious, as your bonuses will not be credited to your desired Service Account if you choose the incorrect one.
Go to Registration Codes > select "Enter Pre-order Bonus Code (Early Access Code)".
Enter your 20-digit Early Access Code, then press the "Next" button.
Confirm the details, then press the "Next" button.
Go back to the "Your Account" tab to confirm Early access and pre-order bonuses. In the "Account Status" section, you'll see a radio button in the Endwalker Early Access version area. Once Early Access begins, FFXIV: Endwalker will be downloaded automatically.
Steam
If you pre-ordered FFXIV: Endwalker on Steam, you can locate your 20-digit pre-order code by going to your game library and right-clicking on "FINAL FANTASY XIV ONLINE" .
Choose "Manage > CD keys" to see all codes associated with that Steam account. The 20-digit Early Access Code, beginning with "RF5A-" will be listed there.
Log in to the Mog Station using your Square Enix account and follow the same instructions above for PC (Windows / Mac).
PlayStation: PS4 / PS5
Registration codes are not required for PS4 or PS5 for the digital FFXIV: Endwalker expansion. When you pre-ordered the game, your PlayStation Network account will have automatically linked to Early Access and the pre-order bonus items. Please follow the steps below to register your Square Enix account's rights:
Open FINAL FANTASY XIV and follow the on-screen instructions.
Depending on the platform, you will see "FINAL FANTASY XIV: Endwalker – Pre-Order PlayStation 4" or "FINAL FANTASY XIV: Endwalker – Pre-Order PlayStation 5". Click "Next".
You'll see the Service Account, where you can enter the pre-order code. To finish the registration process, click "Next".
To confirm pre-orders bonuses on PlayStation, go to the PS4/PS5 menu: Settings >PlayStation Network/Account Management > Account Information.
Scroll down to "Services List" and look for "FINAL FANTASY XIV: A Realm Reborn".
When you select it, you'll see an entry labeled "FINAL FANTASY XIV: Endwalker Early Access" or "FINAL FANTASY XIV: Endwalker Pre-Order." After you registered the entitlements to your account, registration information will be reflected on the FINAL FANTASY XIV: Mog Station after you launch the game for the first time.
When Early Access begins, FFXIV: Endwalker will be downloaded automatically.
FFXIV: Endwalker Main Story
The climax of the Hydaelyn and Zodiark story is featured in the FFXIV: Endwalker expansion, with your heroes facing off against "an even greater calamity than ever before – a second advent of the Final Days." In the trailer, various characters realize that peace is ephemeral and are seemingly prepared to fight whatever is coming from the stars.
The last time we saw our Warrior of Light and the Scions of the Seventh Dawn, we were staring at the moon right after fighting a pack of Lunar Primals and their tempered thralls as Fandaniel gives us a final farewell to close out Shadowbringers as he aims to bring about a second advent of the Final Days.
So for Endwalker's story, there isn't much in terms of details aside from walking on the moon, heading to new zones and sorting out whatever issue there is over there, and heading over to Old Sharlayan to convince some stubborn Scholars who are definitely not bitter over their Endwalker job preview.
FFXIV: Endwalker New Areas
When a new expansion comes, there going to be a lot of new areas so let's take a look at the areas we know so far.
Labyrinthos
Not much is known about this area aside from it being described as being an underground dome beneath Old Sharlayan complete with an artificial sun and sky and a climate that's aetherically regulated. It was created for the purpose of being used as a repository for tomes and treatises on every subject imaginable.
Garlemald
The home to the Garlean Empire. It has been referenced so many times throughout the story that I'm sure most of us just can't wait to set foot on the map and explore the now desolate empire.
Thavnair
An island located in the middle of the sea named The Bounty, between Eorzea, Othard, and Ilsabard. It is a hot and arid island, so much so that its denizens consume a laughable amount of perfume in order to mask the smell of sweat. The island is famous for alchemy. It is also one of the few places where Lalafells are native to outside of the continent of Eorzea.
Radz-at-Han
The ancient city-state is the capital of the island of Thavnair and the birthplace of modern alchemy. The city-state has maintained its independence through a non-interference policy with the Garlean Empire and maintains trade between Garlemald, Hingashi, and Eorzea. If you think about it, it's where the Garleans get Eorzean good in a roundabout way.
Old Sharlayan
The nation of scholars where the pursuit of knowledge is held in much higher regard than the end of the world. Sharlayans seldom ever participate in international politics and are disinclined to share their knowledge for fear of its misuse especially for the purposes of warfare. The beautiful nation filled with a library of many eras is about to open its doors for our champions.
FFXIV: Endwalker New Jobs
There will be two new jobs that players can dabble with come Endwalker's release. Step aside Dark Knight as the Reaper is looking to take the crown as the new edgelord of the game. It's stylish, looks good in black, can summon a voidsent avatar to attack, has a very cool scythe weapon, and is also known as a very angry botanist. Yes, Reaper originated from the Disciple of Land class, Botanist.
Reaper
The Reaper is the new DPS job in town that uses its scythe and voidsent avatar to mow down enemies and harvest their souls (yes, the botanist thing is making more sense). Its resources are the soul gauge (red bar) and the shroud gauge (blue bar). It attacks enemies to generate resources for the soul gauge to then use Avatar Attacks to generate resources for the shroud gauge to then have your avatar possess you and use a killer combo with a heavy and cool-looking graphic finisher.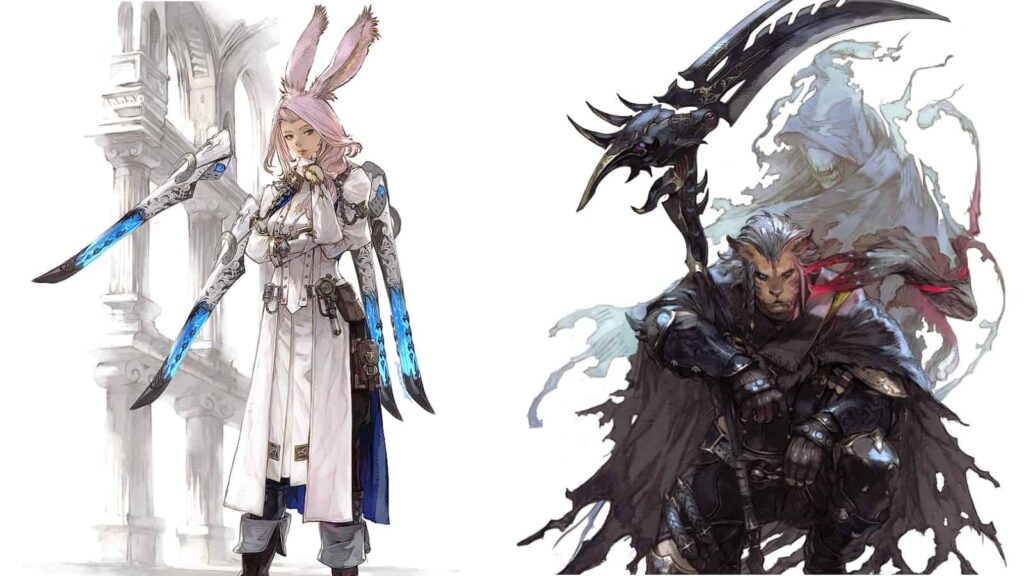 Sage
The Gunda…. I mean Sage is the new healer job players will be able to enjoy. It's classified as a Barrier Healer along with Scholar so its purpose in a fight is to mitigate damage as much as possible as well as heal the group. It uses flying laser-looking weapons that look like Bits or Funnels from the Gundam anime series. It's will mainly rely on Kardia for healing at the same time DPS. Kardia is a semi-permanent buff similar to the Dancer's Dance Partner that the Sage gives to a selected party member. Anyone under the effect of Kardia will receive a small heal when the Sage casts certain magic attacks. As a side note, the Sage has a gap closer where it gets Gundam Wings so yeah, it's very cool.
FFXIV: Endwalker New Raids and Challenges
There isn't a whole lot of information to go on just yet so we'll be sharing what the official Endwalker website has to say for now. Though we are getting quite a treat for the new Trials since two iconic summons from Final Fantasy X, Anime and the Magus Sisters (first appeared in Final Fantasy IV as bosses).
Trials
Anima – "Encased in an otherworldly carapace and bound with thick chain, this abomination is agony made flesh. Within its hollow eyes burns a baleful light, as its jagged maw hangs wide, belching forth searing flame."
The Magus Sisters – "A trinity of gods long revered by the people of Thavnair. Cinduruva, the eldest, is said to be the bearer of wisdom, Sanduruva that of prosperity, and Minduruva, the youngest, ingenuity."
New Alliance Raid – Myths of the Realm
An original story for the alliance raids this time and one that will only feature elements in the universe of Final Fantasy XIV. Myths of the Realm will be focusing on the many mysteries and lore of the world.
This is what the special website has to say about it, "Since time immemorial, a pantheon of gods known as the Twelve has presided over the land of Eorzea. Faith in these divine beings permeates all facets of life, and its influence is present in the practice of every craft, the heritage of each clan, and the customs of villages and nations across the realm. Now, the quest begins to discover how their tale began─and perhaps how it shall end."
New Raid – Pandæmonium
"Far beneath the ground upon which mortals tread, steeped in darkness deep as starless night, ancient power lies dormant. Too hungry, too brutal, too monstrous─what cannot be controlled must be contained, here, in Pandæmonium. Dare you make the descent?"
FFXIV: Endwalker New Races
The Male Viera
Many of you may remember that when race details about Shadowbringers officially came out many were dismayed about the gender locking of the new playable races, the Viera and the Hrothgar. Well we're in luck as the development team heard us and are adding in a male Viera on the release of Endwalker. It is sad to hear that they couldn't add female Hrothgars yet due to being busy with everything else but they are planning on doing so sometime after 6.0 releases.
Arkasodara
One of the new Beast Tribes. The Arkasodara look like elephant people but in the world of FFXIV they are known for being great in the pursuit of knowledge such as alchemy. They are indigenous to Thavnair and are the founders of Radz-at-Han together with some Au Ra and Hyur migrants.
The Loporrits
Not much is known about this new beast tribe other than that they hail from the moon and that there is one minion in the game called Namingway and they are of the same race.
FFXIV: Endwalker PC Requirements
Minimum
OS: Windows 8.1 64-bit, Windows 10 64-bit
Processor: Intel Core i5@2.4GHz or better
Memory: 4 GB RAM
Graphics: NVIDIA Geforce GTX 750 or better AMD Radeon R7 260X or better
DirectX: Version 11
Network: Broadband Internet connection
Storage: 80 GB available space
Sound Card: A sound card which supports DirectSound
Recommended
OS: Windows 8.1 64-bit, Windows 10 64-bit
Processor: Intel Core i7 3GHz or higher
Memory: 8 GB RAM
Graphics: 1920 x 1080: NVIDIA Geforce GTX 970 or higher AMD Radeon RX 480 or higher
DirectX: Version 11
Network: Broadband Internet connection
Storage: 80 GB available space
Sound Card: A sound card which supports DirectSound
What's in the FFXIV: Endwalker Digital Collector's Edition?
The Digital Collector's Edition will have the same pre-order bonuses as the standard edition but players will also get the new Arion Mount which is supposed to complement the signature job of Endwalker, paladin, a Wind-up Porom Minion, and a reaper-exclusive weapon, The Death Scythe.
FFXIV: Endwalker Pre-Order Bonus
Players can get the pre-order bonus items which are the Wind-up Palom Minion and the Menphina Earring which grants players a 30% EXP boost up to level 80. The earring will only work for combat jobs.
How to Pre-Order Final Fantasy XIV: Endwalker
FFXIV: Endwalker is set to launch on PC, PS4, and PS5 so purchasing the expansion will require a trip to Steam, the Square Enix Store, or the PlayStation Store, or by visiting Official Pre-Order Page.
FFXIV: Endwalker includes Stormblood and Shadowbringers, but only when it is released in November. You must purchase Shadowbringers if you want to play Stormblood/Shadowbringers right now.
Steam
Here's the Steam link to be redirected to the Steam page to pre-order Final Fantasy XIV: Endwalker.
If you pre-order through Steam, you will received two codes, but only the preorder code is valid for now. You won't be able to use the CD key for the actual expansion until November 19th, when early access begins.
Square Enix Store
Here's the Square Enix Store link. You will only be getting one code and will receive the code for the expansion before early access. Follow the instructions above on how to redeem access codes.
Preorder bonuses for Final Fantasy XIV: Endwalker can be redeemed immediately. The code itself is valid until March 31, 2022, according to the Square Enix website. The bonuses will be delivered to you in-game via Moogle mail. Collector's Edition items will be available only when the game is released in November.
PlayStation Store
Pre-order on the PSN store from the console or visit the Playtation Store via the web.
If you own the game on multiple platforms, you only need to pre-order once for the bonuses, but you will need to buy Final Fantasy XIV: Endwalker for both platforms in order to play on both.
How Much is FFXIV: Endwalker?
Final Fantasy XIV: Endwalker Standard Edition cost: $39.99 USD / €34.99
Digital Collector's Edition cost: $59.99 USD / €49.99
Physical Collector's Edition for Final Fantasy XIV: Endwalker is sold out. There is no news of possible restocking as of this writing.
Is FFXIV Crossplay?
Yes, FFXIV has always been crossplay with PC since the PS3 days. FFXIV players have always been able to play with each other regardless of their platform of choice. If you have a copy of the game on PS4 or PS5 and then suddenly switch to PC then you'll be happy to know that as long as you're using the same Square Enix account then your progress will pick right back up where you left it and vice versa.
And that's all we have at the moment regarding FFXIV: Endwalker. For more on FFXIV you check here.