Game company CAPCOM has recently concluded its latest Monster Hunter May Digital Event revealing what to expect in Monster Hunter Rise update 3.0.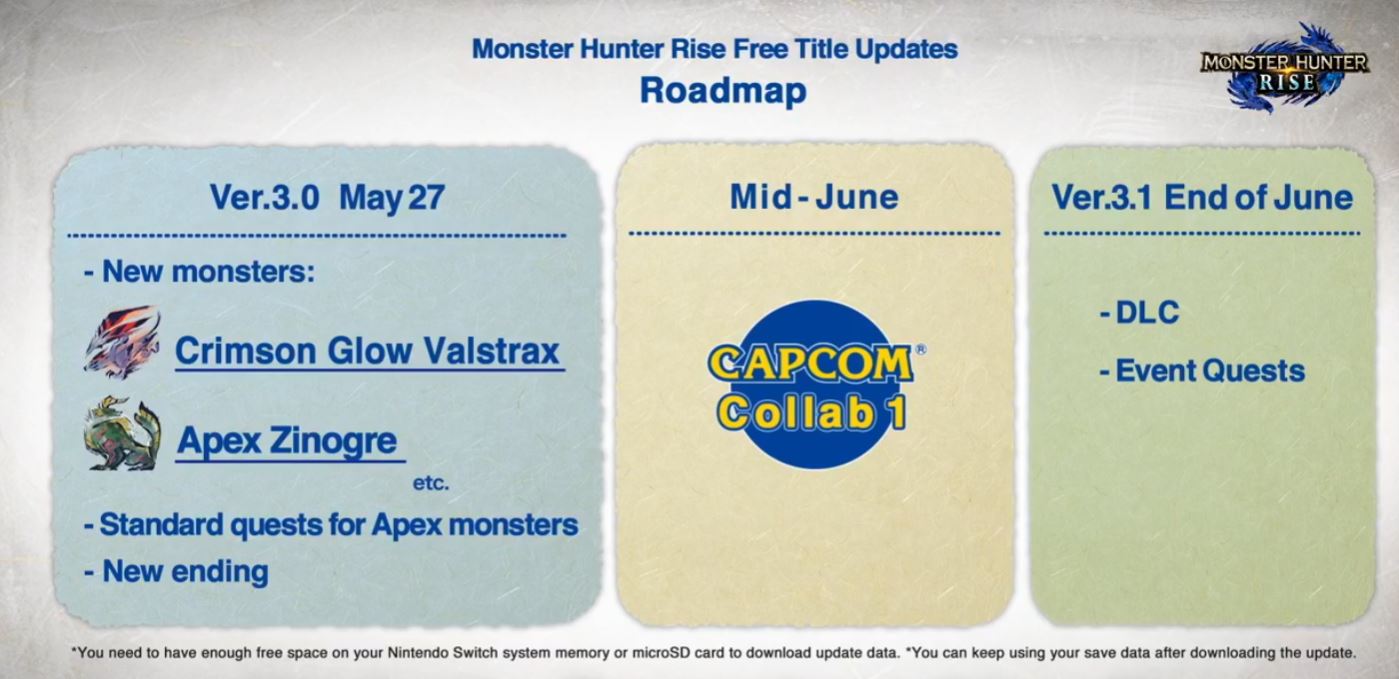 According to the recent livestream (data collected by our resident writer), upcoming MH Rise update 3.0 will introduce two new monsters called the Crimson Glow Valstrax and the Apex Zinorge. This will be available tomorrow, May 27 with new standard quests for Apex monsters and also a new ending for the game.
Update 3.0 will also offer a new Hunter Layered Armor that consists of Felyne Ears, Felyne Tail, Canyne Mask, and Canyne Tail. There is also the Palamute Layered Armor that offers a Felyne Mask. The Palicon Layered Armor will offer a Canyne Mask while the Cohoot outfits have Out on the Hunt and Li'l Wingdrake. These will be part of the paid DLC.
Other contents include the following:
Hunter voices:
Pose sets:
Hide Pose Set
Using the Wall Pose Set
Stickers:
Hairstyles:
Noble Short
Delicate Beauty
Face paints:
BGM:
Monster Hunter Series Bases
Monster Music: Dance Version
For the Major New Features, they have added system elements, which are new Guild Card medals that will be available soon. They also added story elements:
New monsters will appear in Hub quests
New monsters will appear in the Rampage
New quests will be available
New boss battle arena will be available
New weapon trees, armor, layered armor, and items will be available
New sills and rampage Skills will be available
You can use materials to change the appearance of Rampage weapons.
The developers have also made some big adjustments like bug fixing.
Upcoming next month, there will be a Monster Hunter Rise and Monster Hunter Stories 2 collaboration event. This will be in mid-June and the event quest reward is a Palico Layered Armor: Tsuskino Costume.
By the end of June, new DLC and event quests are to be expected. Ver. 3.2 will be available by the end of July and it will be the CAPCOM Collab 2. It will feature new DLC and event quests. Ver. 3.3 will have the same content and it will be CAPCOM Collab 3. It happens by the end of August.
Monster Hunter Rise is now available on Nintendo Switch. A PC version is coming later.
Credit to our resident writer Conrad Huang for collecting the info!