EA and Final Strike Games revealed all of the explosive content coming to Season 1 of the upcoming cross-play hero arena shooter, Rocket Arena. On July 28, just two weeks post-launch, the live service will kick off adding new maps, modes, a variety of in-game events and a new hero to the game available for free for all players.
In Season 1, the story follows the events and heroes of the Rocket Championship Tour, where players discover each hero's personal motivations for winning the Tour Trophy, and how that drive reflects on their personality, backstory, and passions. The season will also bring a new hero – Flux, the first major in-game event, new maps, and daily and weekly challenges. Over 10 new playlists will be introduced, representing Rocket Arena's Social, PVE, and Ranked Modes.
Rocket Arena's live service is at the core of the game's design and will allow players to dive deeper into the overarching story, written by TaleSpin Writer/Co-Creator Len Uhley with the direction of Sly Cooper Co-Creator Dev Madan (now the Lead Art Director at Final Strike Games). Every season will run for approximately 3 months and will include a new playable character, limited-time events, game mode and playlist rotations, a new Blast Pass, a new ranked season and much more.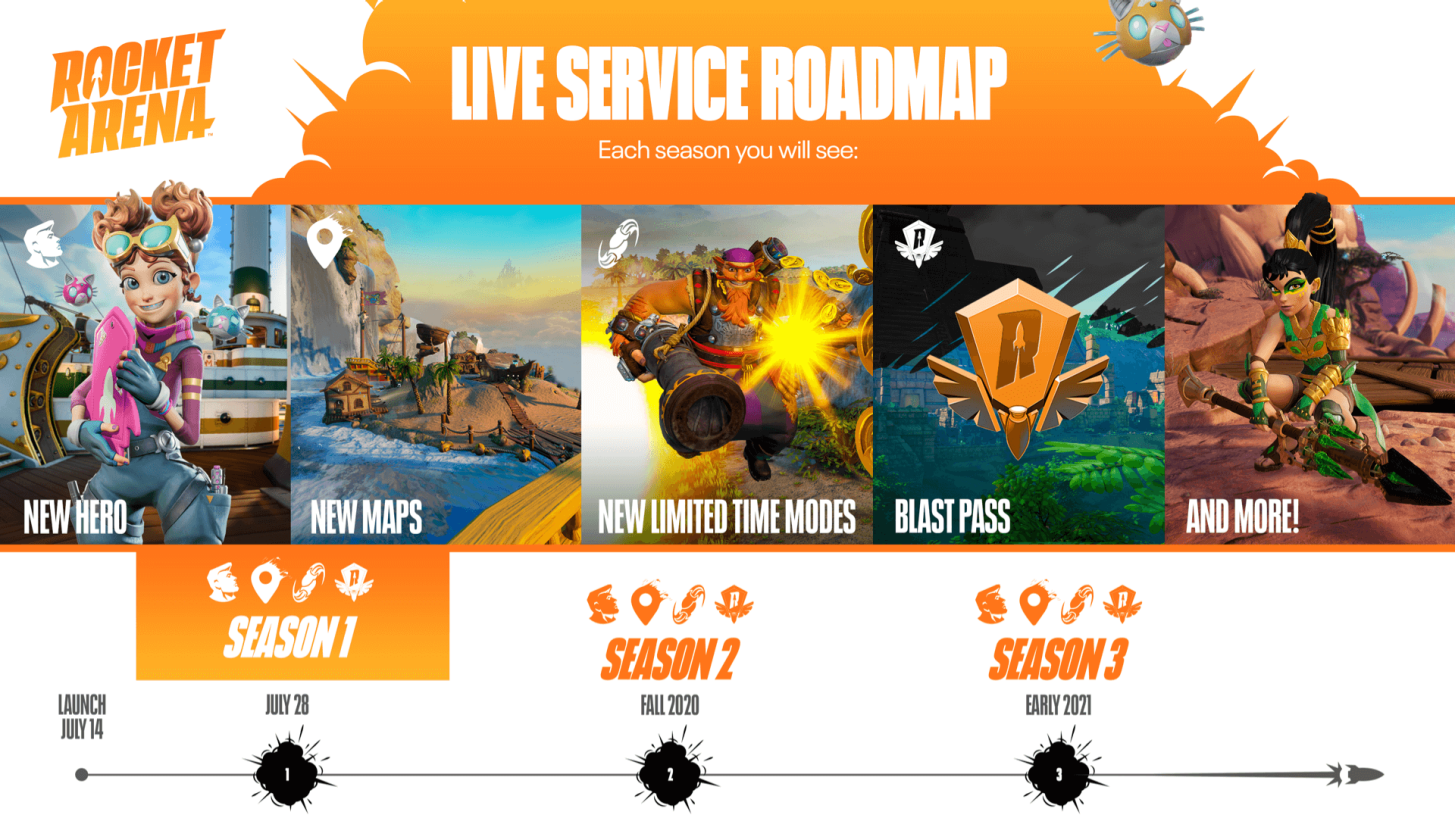 The team also debuted two new gameplay trailers this week, introducing the colorful cast of playable characters and expansive world of Crater. The "Meet the Heroes" video highlights all 10 heroes available at launch, their unique abilities, playstyle and most importantly, their signature rocket launchers. In the "World of Crater" trailer, players will take a tour through 10 vibrant maps, including a desert full of extinct dinosaur-like creatures, futuristic cities, gemstone jungles, pirate lagoons and an underwater world.
Rocket Arena will also be the first EA title to launch with cross-play support on PlayStation 4, Xbox One, and PC via Origin and Steam on July 14. The first season kicks off on July 28, just two weeks after launch.
Source: Press release