Publisher Top Hat Studios, Inc. and developer Mystery Egg Games have announced that their net-diving tactical RPG/CCG hybrid game, Hero.EXE, will be coming to all major PC strorefronts, Nintendo Switch, PS4, PS5, Xbox One, Xbox Series X|S. The game is expected to release in Q1 of 2024.
Hero.EXE is part tactical-action RPG, part collectible card game, and part visual novel. The game draws inspiration from the classic Mega Man Battle Network series and popular modern-day favorites such as Hearthstone and Fire Emblem: Awakening.
A Kickstarter campaign for the game is also live and available until the 21st of October, where enthusiasts of the genre can pick up exclusive rewards and reserve copies to play on day one. A demo is also accessible from the game's Steam page.
In another world, The Grid was created in much the same way as our world's internet was: with elbow grease and a dream. However, their world turned out very differently from ours. Instead of websites, they built oceans. Instead of vlogs, they built cities. And then A.V.A.s came into being. They are all partnered with pilots in the real world. Shopping, socializing, and browzing the grid are some of the many everday essentials done through A.V.A.s.
Connect to the internet of another world, choose your A.V.A., and go on an adventure to change both of our worlds. Each A.V.A. is a living being that will act and respond to your actions. They have their own personalities, goals, histories, stories, and relationships, and all of these have an effect on your play-through. Get ready to take on whatever the Grid has to throw at you, together!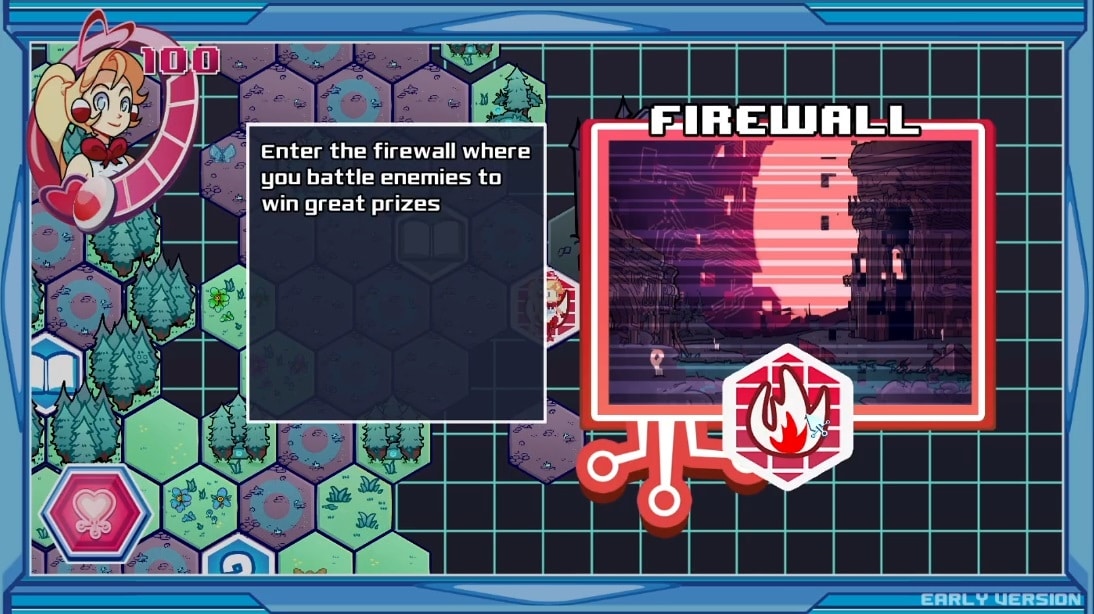 Hero.EXE Features
Deep, Fully Customizable Card-Based Combat Systems and Decks: Use the A.V.A. Build System to build and compile together you own personal combat deck with over 300 unique cards and abilities! Collect 'em all and have fun trying out different combinations.
A Journey Around a Diverse, Interconnected Digital World: The Grid is made up of users from all walks of life, with all sorts of hobbies, and all sorts of weird personalities. When these people come together, they form "server worlds" – and you'll journey across them with your A.V.A. Move from tile to tile as you explore each server, uncover mysteries, meet new friends (or foes), and then flick back and forth with your P.O.K.I.T. to customize your deck and keep up to date with what's going on with other pilots.
Complex Characters and Complex Narratives: Every A.V.A. is unique, with their own personalities, histories, and goals. Bond (or clash) with them as you navigate across The Grid, and who you might know (and how much they like you) might change how things turn out… just be aware that as the Pilot, your decisions are final and may have unforeseen consequences!
Gorgeous Artworks and Story Segments: HERO.EXE's deep story is told through the usage of lovingly crafted illustrations and on occasion visual novelesque sequences.
Intense, Multi-Phase Action and Combat: Get onto a grid to fight glitches, weird mischievous monstrosities that have begun terrorizing the inhabitants of the server worlds. Pick your hand of cards, set up on the grid, and out-skill your opponent.
A Real Next-Gen Game: On PS5 and Xbox Series X|S, Hero.EXE will support 4k at 60FPS and next-gen platform-specific features.
You can find out more about Top Hat Studios and Hero.EXE from their website.
Source: Press Release