The latest issue of V-Jump recently revealed the upcoming DLC for popular fighting video game Dragon Ball FighterZ. Other versions of two characters will be introduced soon.
Dragon Ball FighterZ new DLC introduces two characters
The upcoming DLC will introduce two new characters, or rather, the other versions of two characters in the game. These are Base Goku and Base Vegeta. Both characters will be available in early August for 500 yen each in Japan.
Base Goku will have the Kaio-ken, which allows him to perform consecutive attacks using a combination of buttons. If his allies are knocked out, his power will increase a lot. He will also have the Super Spirit Bomb, which is his strongest technique, but it has a slow speed.
Base Vegeta will have the Galick Gun that will fire a large energy blast at the ground and can also be used airborne. The Galaxy Breaker will fire off energy from his entire body.
Beta test on Switch revealed
Aside from the characters, the magazine revealed an open beta test for the Nintendo Switch version of the game this coming August. It will support local three-versus-three multiplayer gameplay.
The game is now available for the PlayStation 4, Xbox One, and PC. A Nintendo Switch version will be launched this coming Sept. 27 in Japan and Sept. 28 in the west.
Dragon Ball Xenoverse 2 introduces Kefla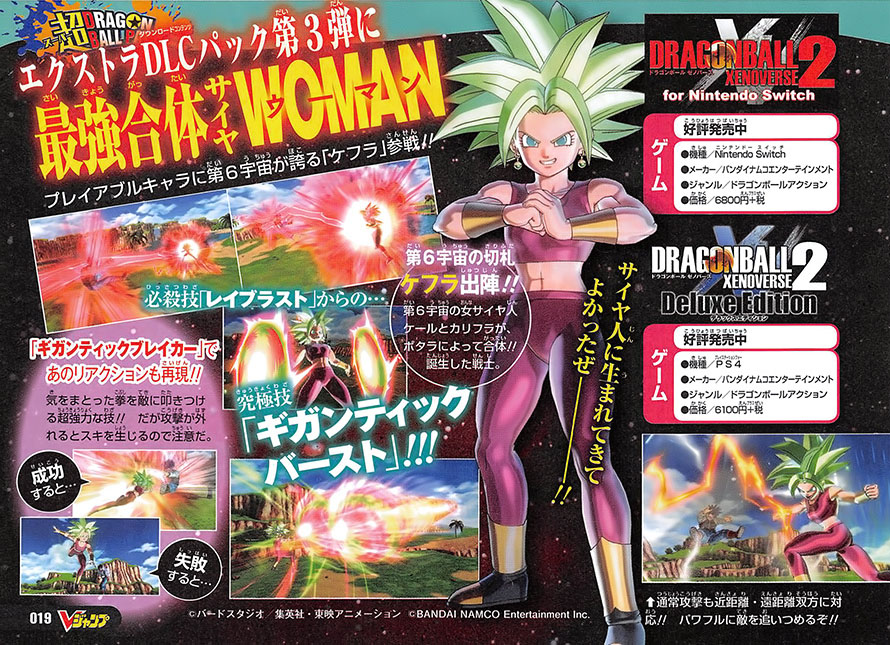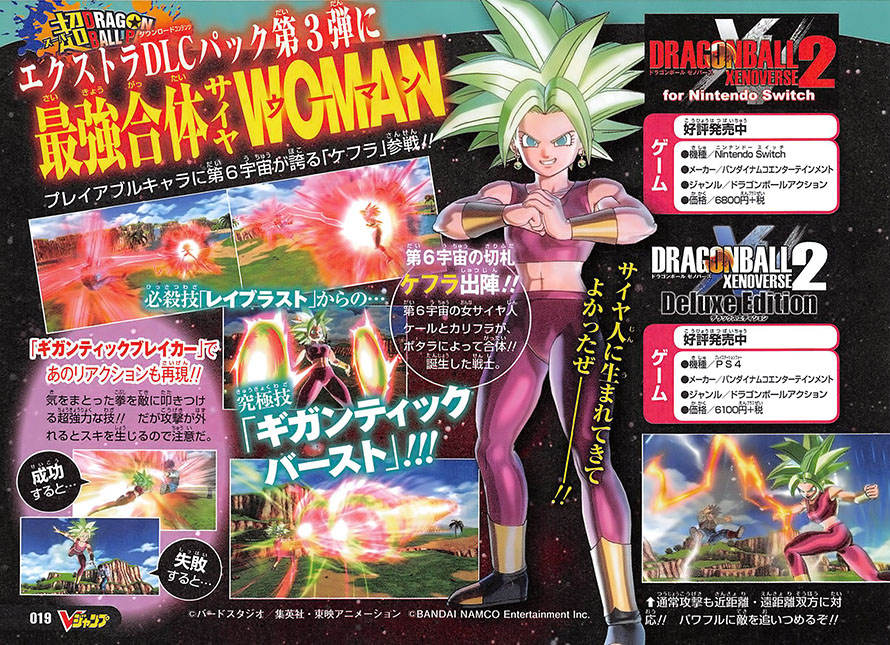 In other news, Dragon Ball Xenoverse 2 will introduce a new character from the Dragon Ball Super anime: Kefla. She will be available via downloadable content. Her Gigantic Breaker will be reproduced in the game.
Source:  Ryokutya2089