Garo x Final Fantasy XIV is a collaboration between the Garo Project and Square Enix on a crossover project. The concept includes creating a DLC Expansion event for the game Final Fantasy XIV that would grant players the power to summon Makai Armors, ride Madou Horses, and serve as Makai Priests and Priestess's.
As of right now, the GARO Collaboration gear is available in Final Fantasy XIV. This one-of-a-kind piece of equipment will be available for you to take advantage of and add to your character's collection of equipment; it's excellent if you're looking to give your character a distinct appearance. We'll go through how to obtain the GARO Collaboration gear in Final Fantasy XIV in this article.
How to Obtain GARO Collaboration Items in Final Fantasy XIV
There are two methods in which you may obtain the GARO Collaboration gear:
1. Visiting the Wolves Den Pier in La Noscea, obtaining Wolf Marks from the Wolf Mark Exchange vendor, and then making your way over to the Disreputable Priest, who can be found at coordinates (X:5.0, Y:5.3). Depending on your character's Job, you'll be presented with a number of alternatives while conversing with the Priest, including Melee I, II, and Ranged options.
2. The second location where you may get these GARO-inspired armor sets is from the Gold Saucer Attendant at (X:5.4, Y:6.6) in the Gold Saucer, who will accept MGP in exchange for the armor sets. We would like to point out that the versions of the GARO-inspired gear gained through MGP cannot be colored and do not count towards the entire set of armor necessary to get titles from the Disreputable Priest.
How to Earn Wolf Marks in Final Fantasy XIV
When players achieve level 30, they may unlock an unique PVP mode by interacting with a Makai Priestess at Wolves Den Pier and purchasing armor pieces. The player must grind his or her way up to Level 50 or 60 in order to be able to complete the missions' requirements without trouble.
Earning Wolf Marks is a simple process, though the quantity you receive is dependent on whether you win or lose in the PvP games you participate in. PvP content such as The Feast, a 4v4 or 8v8 conflict in which both sides fight against one other, is present in Final Fantasy XIV along with additional modes. Aside from that, there's Frontline, which is a much broader battleground where players are divided into three alliances. Finally, there's Rival Wings, which is FFXIV's version of a Multiplayer Online Battle Arena, with a total of 24 participants in each round.
Wolf Marks are awarded in each of these PvP types, regardless of whether or not you and your team win; however, additional Wolf Marks are awarded if you win. This currency may then be converted at Wolves' Den Pier, which is located near the stadium. Participating in the PvP Daily Roulettes is a simple method to ensure a consistent stream of Wolf Marks; these events reward you with a significant quantity of Wolf Marks simply by participating on a daily basis.
How to Get Garo Weapons and Gear Sets in Final Fantasy XIV
You may trade this currency for Makai gear from the Garo collaboration event at Wolves' Den Pier (X:5.0, Y:5.3) if you've participated in FFXIV's PvP gameplay. Depending on how many pieces of Makai gear you choose, one will require a certain number of Wolf Marks. Some of the equipment is shared by several jobs, like as the Bard and Machinist sets, while others, such as the Paladin set, are exclusive to that job.
The following Wolf Marks are required for each piece of gear:
Accessory – 1,000 Wolf Marks
Chest – 4,000 Wolf Marks
Feet – 2,000 Wolf Marks
Hands – 2,000 Wolf Marks
Head – 2,000 Wolf Marks
Legs – 4,000 Wolf Marks
Weapon – 4,000 Wolf Marks
How to Get Garo Mounts in Final Fantasy XIV
In way to collect the mounts, just complete the requirements listed below and then talk with Jonathas in Old Gridania (X:10 Y:6).
Each of the three GARO-inspired mounts requires a separate achievement to be unlocked before you may use it. Once you've talked to the Disreputable Priest, you'll be given the Makai title appropriate for the job. The unique Garo event mounts may be earned by participating in PvP content with a Makai title equipped on your character.
The following is a list of the achievements that are required:
| | | |
| --- | --- | --- |
| | | |
| | Win 10 Frontline or Rival Wings campaigns while using a title received from the Disreputable Priest. | |
| | Win 30 Feast or Crystalline Conflict matches while using a title received from the Disreputable Priest. | |
| | Win a combination of 60 Frontline/Rival Wings campaigns or Feast/Crystalline Conflict matches while using a title received from the Disreputable Priest. | |
You may claim your award from the Achievements menu if you satisfy the prerequisites.
If the achievements are unlocked after the Garo collaboration has finished, you will not be eligible for this award.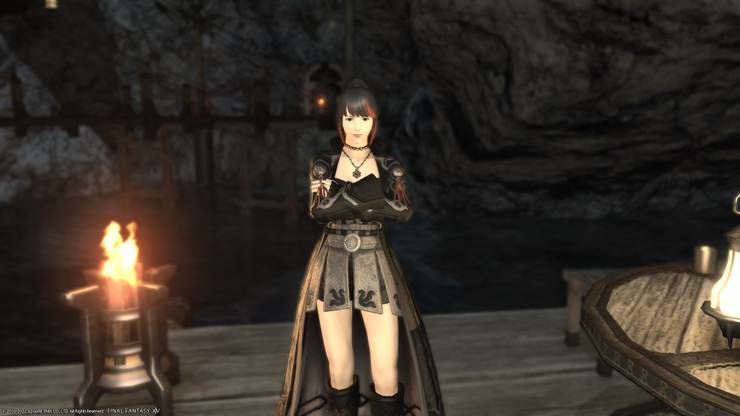 How to Get Garo Titles in Final Fantasy XIV
In order to get these Garo Titles, players must equip a full set of armor, including the head, body, hands and feet, as well as a class weapon that matches the armor. Then speak to the Disreputable Priest at Wolves' Den Pier (X:5.0 Y:5.3). Choose the 'Recieve a new title' option when wearing the required gear to earn your coveted title.
Not all characters, such as samurai, gunbreakers, dancers, red mages dancers, reapers, and sages are not required to equip a weapon.
Final Fantasy XIV Garo Collaboration Event End Date
That last event lasted over a year, so participants should have plenty of time for Garo Grinding before the Event concludes. Before the event ends, players will be given at least a few weeks' warning, and in some cases months' notice.
You should be able to finish the FFXIV Garo event in your spare time. While you're at it, take advantage of the opportunity to participate in a few other activities.
---
If you like this guide, check out our other Final Fantasy XIV articles here.
Here's an awesome video by Ginger JRPG Gaming on How to Unlock Everything in the FFXIV GARO Event: