The new cinematic trailer of upcoming expansion Final Fantasy XIV: Shadowbringers; showcases what to expect soon on the expansion.
Final Fantasy XIV: Shadowbringers trailer details
Game publisher Square Enix hosted its opening keynote early this morning at the Fan Festival in Paris. The fans got to see a lot of new content for the game and what the latest expansion would be offering. To celebrate its upcoming release, the expansion got a new cinematic teaser trailer that features the overall tone of it and the great visuals.
Collector's edition inclusions
Aside from the brand new trailer, Square Enix also revealed a Collector's Edition of Shadowbringers that can be purchased for $199.99. The digital version of the Collector's Edition will be available for only $59.99, but without the physical contents. The physical version will include the following:
Art box
Dark Knight figure
Art book
Sticker cling
Playing cards
Digital in-game items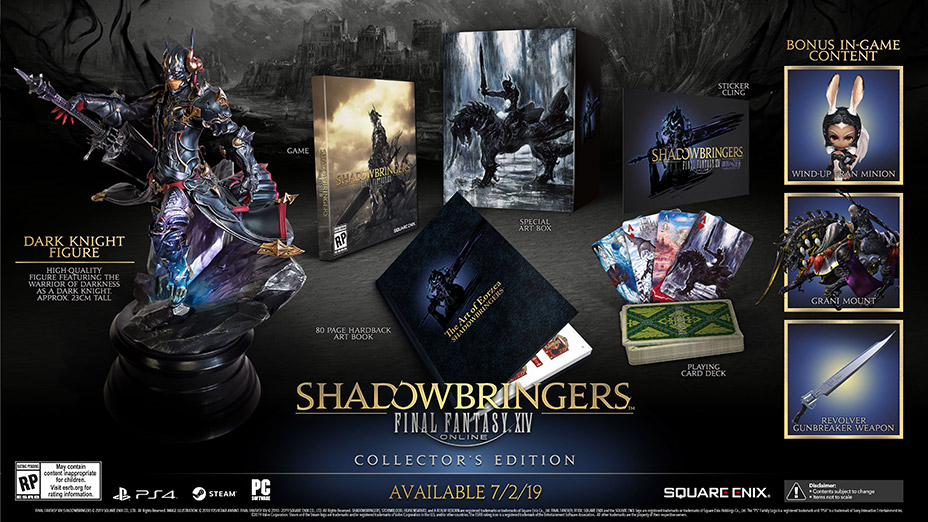 Either version will also get other goodies as well like the exclusive gunblade weapon based on the weapon used by Squall in Final Fantasy VIII, a special Grani mount, and a minion based on Fran from Final Fantasy XII. The standard version will cost $39.99.
Other stuff talked about
There were other new contents revealed as well like the new Gunbreaker job and the Viera race. There is also an upcoming special Nier: Automata themed raid made by Yoko Taro.
The upcoming expansion will launch on July 2. It will be available on PlayStation 4, Mac, and PC.
Source: Official Website