Is Genshin Impact down? Worry not! Today, September 1, 2021, the 2.1 Update will be released. Mihoyo has confirmed that Genshin Impact maintenance for version 2.1 will begin across all platforms on August 31, at 11 PM BST, that's 6:00 PM Tuesday, Eastern Time.
How long will Genshin Impact Servers be down?
The maintenance will last for 5 to 6 hours, and is estimated to end at around 5:00AM BST or 12:00 midnight on Eastern Time.
Maintenance Compensation
They are giving 300 Primogems, for every hour that the servers are down, you will receive 60 Primogems. If the update is done early, there will be no changes in the compensation amount.
How to Update Game Client
How To Update on PC:
Open the Genshin Impact game launcher, and click Launch Update.
How To Update Mobile version:
To update on iOS: Open the App Store and simply tap Update.
To update on Android: Open the game and follow the on-screen instructions.
If your phone has Google Play, it will take you to the app page and simply click Update.
How to update on Playstation – PS4 and PS5:
From the Home Screen, pick Genshin Impact, then tap the "OPTIONS" button and select "Check for Update."
Below are the Most Important Update Details of this update.
Genshin Impact New Characters
Aloy "Savior From Another World" – 5-Star Character
Vision: Cryo
Weapon: Bow
Formerly an outcast, now a hunter of unparalleled skill, Aloy is the first ever crossover character with the 2017 action RPG Horizon Zero Dawn. Aloy is a free character that can be obtained upon updating the game to the latest versions. She can be claimed alongside with her Bow weapon named the Predator. Both the character and the weapon are free to obtain upon updating the game to the latest versions. Check out our guide on How to get Aloy in Genshin Impact.
Baal or the Raiden Shogun "Plane of Euthymia" – 5-Star Character
Gnosis: Electro
Weapon: Polearm
Baal, also known as the God of Eternity or the Raiden Shogun, is the current Electro Archon and a member of The Seven who governs Inazuma. She is the Almighty Shogun of the Inazuma Bakufu, the country's ruler. She is seen with a sword in her hand.
The Shogun is a tyrant who drove the spirits of Inazuma into the forests. She is known by many names, among them are Her Excellency, the Almighty Narukami Ogosho, and she promised the people of Inazuma an unchanging eternity.
Sangonomiya Kokomi "Pearl of Wisdom" – 5-Star Character
Vision: Hydro
Weapon: Catalyst
Watatsumi Island's Divine Priestess. Sangonomiya Kokomi is the Sangonomiya Resistance's leader. This young lady has complete control over the island's affairs.
Kujou Sara "Crowfeather Kaburaya" – 4-Star Character
Vision: Electro
Weapon: Bow
A general of the Tenryou Commission. Bold, decisive, and skilled in battle. Kujou Sara is an adopted daughter of the Kujou Clan and a member of the Kujou Clan who serves Baal. She backs her Vision Hunt Decree and leads troops in the capture of Visions. Kujou Sara is also referred to as a "tengu warrior" with "wings as dark as ravens."
New Inazuma Islands — Seirai Island and Watatsumi Island
These are new islands. After the version 2.1 update, these two new islands will be available.
How to Unlock:
• Complete the Archon Quest "Chapter II: Act I – The Immovable God and the Eternal Euthymia"
• Reach Adventure Rank 30 or above
According to the leaks, Watatsumi Island, Seirai Island, and all known elements of the new territories are depicted on the Inazuma 2.1 map. Seirai Island will be south of the current Inazuma layout, below Narukami Island and Kannazuka. Meanwhile, Watatsumi Island is located west of Yashiori Island.
Watatsumi and Seirai appear to be equivalent in size to other Inazuma islands on the leaked map. Both of these islands are anticipated to be important in the Genshin Impact plot, and they will surely play a role in forthcoming events.
New Fishing System
The Teyvat ecology has recently experienced an increase in fish population, with many new fish species appearing in various waters. The grassroots Fishing Association is overburdened and had to post a commission for assistance at the Adventurers' Guild.
Bring your fishing rod, choose your bait, find a good spot, cast your line, reel it in, and you've got yourself a big catch! The fish you catch can not only be used to make dishes, but they can also be exchanged for valuable treasures at the Fishing Association. There's even the chance to catch colorful ornamental fish to display in your home!
New Equipment
Engulfing Lightning (5-Star Polearm)
Everlasting Moonglow (5-Star Catalyst)
Luxurious Sea-Lord (4-Star Claymore)
"The Catch" (4-Star Polearm)
New Monsters
Signora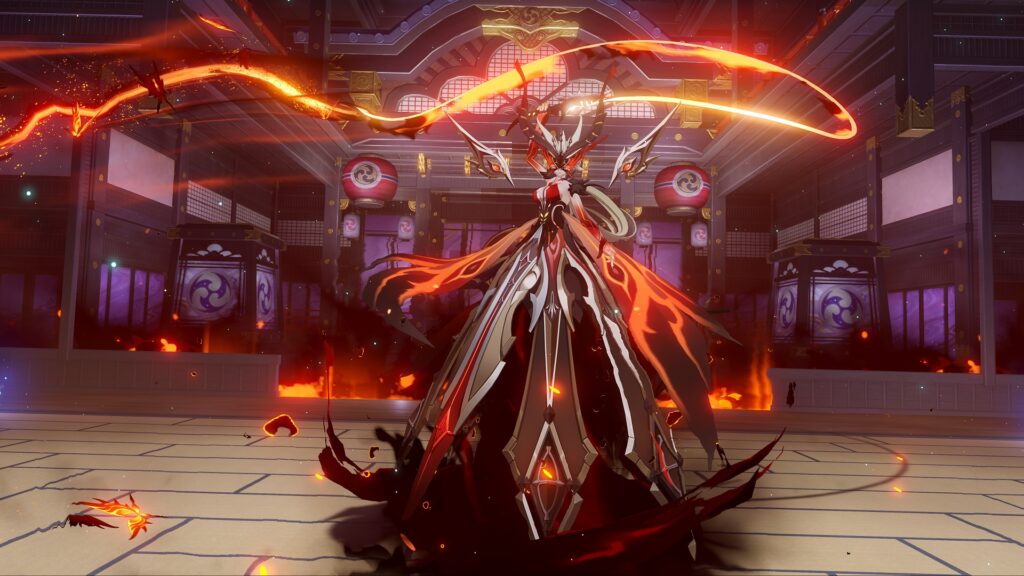 Signora, the Eighth of the Fatui Harbingers.
Hydro Hypostasis
Elemental creature which protects itself with a cubical shell that is elementally inert.
Thunder Manifestation
An elemental life form created as the avatar of thunderous indignation.
Specter
High elemental concentrations have resulted in the creation of this floating creature.
For first-time players or returnees, you can download Genshin Impact here.