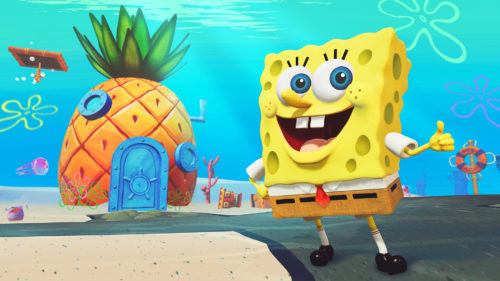 Classic gems getting remasters and remakes give new generations a chance to experience the enjoyment and fun factor that these games had. Refined controls, being remade from the ground-up opens a lot of opportunities for developers to put their own formula while retaining the original vision.
SpongeBob SquarePants: Battle for Bikini Bottom, while flawed, managed to build a cult following in 2003 when it launched on the PS2. Its challenging platformer and puzzles created a group of gamers wanting to push the boundaries of speed-runs made the game even more entertaining than it was initially intended.
Battle for Bikini Bottom has literally Rehydrated its way back to this generation and it looks and plays amazing. Purple Lamp Studios did an amazing job; however, it gets to a point in the game where it does feel repetitive.
Rehydrated didn't lose its touch as a wonderful platformer-adventure, collect-a-ton game. The studio remained faithful to the game's core and didn't change much but instead improved the overall experience like its camera movement and controls, and even added a Horde Mode multiplayer feature.
For those who haven't played the PS2 version, the story takes off after Plankton's diabolical plan to steal the secret formula from Mr. Krabs went sideways. Plankton's manufactured Robots have taken over and it's up for the gang to stop these mindless Robots from destroying Bikini Bottom.
There are puzzles to solve like figuring out how to get a Golden Spatula, gathering Shiny Objects to open areas and clams, and even boss battles await for you in each location of Bikini Bottom. Players are also equipped with basic attack moves and abilities to unlock from Bubble Buddy when you progress further into the game.
Our trio is the main star of the game — SpongeBob, Patrick, and Sandy — each with their own abilities that can prove to be useful in specific scenarios. SpongeBob has the ability to use his bubbles to reach higher places, while Sandy is able to glide to hard to reach areas. Patrick is the stronger out of the bunch and is able to throw objects and watermelons toward an enemy and breakable items. Even at the start of the game, players aren't able to fully get all Patrick's Socks, Golden Spatulas, and Mrs. Puff's Steering Wheels and Artwork without the other characters. By unlocking them means that you're able to switch characters from Bus Stops.
Changing characters is fun and this adds a level of variety in solving puzzles in each area. This, however, is rather meager in a case that only two certain characters can only swap back and forth. For example, in Rock Bottom, there are difficult high platforms that SpongeBob and Patrick can't reach, but there are sections that you need SquarePant's abilities to solve puzzles that leave the starfish out of action. So if the player places their bet on certain abilities that Patrick has, they won't be able to switch back to him until an area allows them to.
While the game does not have any difficulty setting, players will go through the same experience as everybody. But that's not to say the puzzles aren't challenging enough. Areas like the Rock Bottom Museum where players have to disable an overwhelming security system to the Goo Lagoon's carnival location offers tons of challenges; veteran and new players alike will love what Battle for Bikini Bottom still has to offer.
The purpose of the newly added Horde Mode is to give the game a fresh new feel. There are 26 different islands with unique settings. Players are able to choose from 7 different characters from the game's main trio to loveable ones like Mr. Krabs, Plankton, and Squidward. Unlike other Horde modes, this one, in particular, is still targeted for kids and those players who want to complete challenges. While the game's Horde Mode tries to put players into the test and to give new ways to complete each island, it does fall flat and entirely lacks variety in my taste. However, it is a welcome new added mode that players might enjoy.
Aside from its polished controls and camera movement, Rehydrated is so vibrant and full of joy. Its visual improvement made it look appealing to new players and those fans who loved Battle for Bikini Bottom. Running on Unreal Engine 4, Rehydrated highlights those improved assets and textures, everything looks buttery smooth and puts more emphasis on the character's facial animations.
It's been a while since I have invested so much time in a platformer game like this. The last time I remember playing was Skylar & Plux and since then I haven't touched a full-on collect-a-ton platformer title. It's surprisingly refreshing to play such a game that puts you in the shoes of the trio that made the show amazing that even adults, like me, still love to watch.
SpongeBob SquarePants: Battle for Bikini Bottom Rehydrated still kept what was adored about its whimsical atmosphere that the 2003 original offered while giving fans and new players something fresh.
SpongeBob SquarePants: Battle for Bikini Bottom Rehydrated – Review
Score Definition
We tell you, it's a good game! It's not average! It might have some problems here and there, but you have to admit it is a "Good" game.
Pros
Tons of Puzzle-Challenge Variety
Top-notch Visual Improvements
Fixed Original's Camera and Control Issues
Added Horde Mode
Cons
Much Like Its Original, Repetitive
Lacks Some Variety in Horde Mode