For the longest time, the looter shooter games niche was dominated by franchises such as Borderlands and Destiny, and even Warframe to an extent. Fast forward to 2023, and we are looking at a string of hopefuls looking to take the crown for themselves. Granted, a fair number of these games had been slated for 2022 releases but have since been delayed. That only means they'll be offering more to the table, right?
Alterborn
Release Date: TBA
Starting off this list, we have Alterborn. This was supposed to be the game that scratched our Remnant itch until the sequel was announced. Well, Remnant 2 has been announced and it looks to be pretty far along the production cycle.
But it's not all doom and gloom for the contender though. Alterborn can still make something for itself if leans more on what makes it unique like the alternate paths that appeal to players who are into high-risk, high-reward scenarios. Hopefully, it releases this year.
Marauders
Early Access Release Date: October 03, 2022
We may be cheating here a bit but hear us out. Marauders has been out in Early Access since October of last year. But so far, it's still on the empty side. It's much like Escape from Tarkov in many ways but with ship-to-ship space combat. It's still going to be in early access until October of this year or Spring of 2024. In that time, we expect it to be a fully realized game that won't have to reset everything every half year or so. Still, the game is gradually rolling out planned content in 2023 which is always a good sign.
The Day Before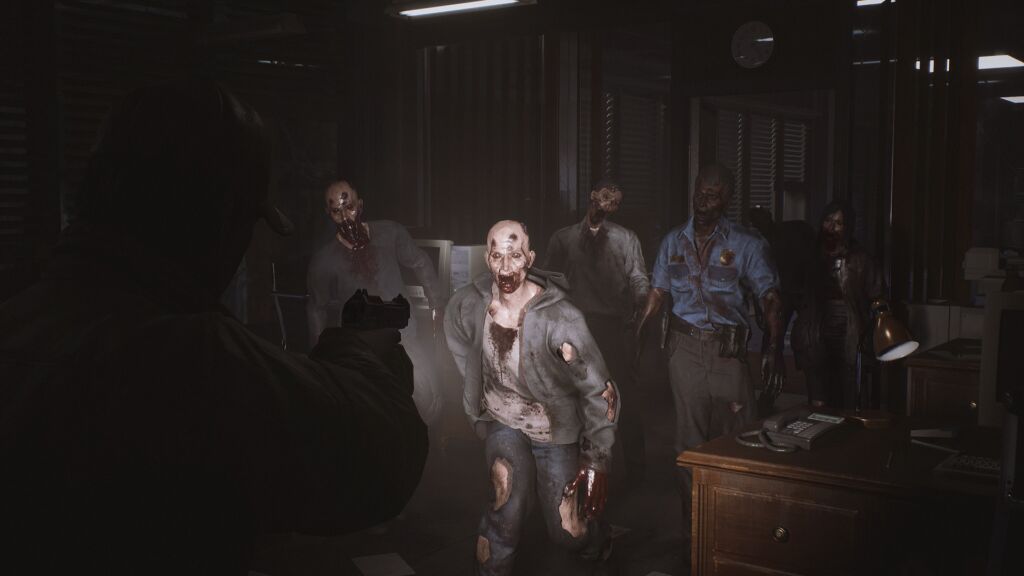 Release Date: March 01, 2023
The only reason why the Day Before is so far down this list is that we don't know if it'll make its March 1st release day. The game does look good, don't get us wrong, but it's been delayed multiple times now. Any more, and it might start giving Duke Nukem Forever a run for its money. The weirdest thing is that zombies and survival looting games are no longer the money-makers they used to be. The game's got its work cut out for it.
But we're willing to give it the benefit of the doubt should it prove to be as good as advertised.
Project LLL
Estimated full release date: 2024
Dubbed the true MMORPG Looter Shooter, this upcoming game is published by NCSoft. In case you don't know, they are the ones behind Guild Wars 2, Lineage II, and, Blade and Soul. So they know what to do in order to succeed in the MMO space. How that translates to a looter shooter is yet to be seen. But let's hope there's more to show in the game's next beta than pretty-looking graphics.
Quantum Knights
Initial release date: 2023
Magical firearm in a Medieval fantasy setting, that's what Quantum Knights is leaning towards as its main selling point. The game offers stylish combat with an emphasis on enhancing firearms through the carving of magic circles. Thus allowing players to tailor their own specialty and combat style. It's amazing how many of these third-person shooting games are coming out this year alone.
The Division Heartland
Initial release date: 2023
This Division spin-off is a free-to-play game set in Northwest America. The battle zone is a little town called Silver Creek. There are two major game modes at launch: Storm Operations, a PvPvE mode that can support up to 45 players, and Excursion Operation, a PvE-focused game mode where players can do missions and collect gear. That's all well and good, but we all know that we're in this game to increase our gear score and take on Dark Zones. That much hasn't changed much.
With Division 2 coming to Steam later this month, it's looking like there's more reason to give this game a try when it releases sometime in 2023.
SYNCHED
Release Date: TBA
There are more than a few reasons to be excited about SYNCHED. From what we know about the game, it's a match-based rogue-lite shooter that has a PvE mode and a PvP one. In both game modes, players are aided by a nano-machine "Companion". That's the game's unique selling point. Reports from players in the current beta suggest that the two modes are very much distinct from one another. It's still buggy for the most part but it's got potential.
There's an open beta going on right now. You can sign up on Steam and check out the game for yourselves.
Destiny 2 Lightfall Expansion
Release date: February 23, 2023
It's the beginning of the end. The Destiny 2 Lightfall expansion sees Guardian pushed to the limit as the Witness and the Black Fleet appear on Earth's doorstep. Major changes are planned to take effect during and after Lightfall's launch. It's not a stretch to say that we could be seeing Destiny 2 taking things to another level with this year's offering.
This should have been higher on our list but we're saving that spot for new releases. But Destiny's still number one in our books.
ARC Raiders
Release date: 2023
When we first saw the trailers for ARC Raiders, we were impressed with what it's trying to accomplish. Our thoughts immediately went to other games like Horizon where Aloy used traps and snares to take apart robot-dinos piece by piece. The idea is kind of similar here too but on a multiplayer scale. You'll definitely need to think outside the box for some of these encounters and be quick on your feet to claim the best loot for you and your friends.
Now, it's been quietly delayed for a while now. We hope it actually pushes through this year with a release.
The First Descendant
Release date: TBA
It's been a few months since the open beta for this upcoming Action RPG, and while the First Descendant still needs plenty of work in terms of getting players engaged with "the grind", we can vouch that the game's main appeal of fights against giant enemies is extremely fun once you get used to it. The same can be said of its Warframe-esque approach to characters and their subclasses.
We're really excited about this one and we can't wait to get our hands on it again in the next beta.
Redfall
Release date: 2023
Redfall didn't get number two on the list because we like the idea of an open-world first-person shooter in vampire infested town, that's part of the reason, but mostly it is being made by Arcane Studios. These guys really know their stuff when it comes to this sort of thing. They did make hits like Dishonored, Prey, and Deathloop. So we're confident that it's going to be a fun experience overall.
Besides, when your game is being compared to Borderlands, you know you're doing something right.
Remnant 2
Release Date: 2023
For our most anticipated loot shooter for 2023, it's got to be Remnant 2.
The first Remnant was a special game that blended elements of Souls-like and thirst-person shooters. It was a stand-out game when it came out, and flew under the radar of most people. Thankfully, word of mouth spread, and the first game enjoyed a moderate amount of success in the years that followed.
Remnant 2 promises to build upon its predecessor in every way possible while keeping through to its roots of randomized playthroughs and a wide variety of weapons and class abilities. We're also looking at how the developers can expand on the story after humanity earned its respite after surviving years of the Root's invasion.
---
And that's it for our list of the best looter shooter games we're excited about in 2023 and beyond. Now's a good time to look for a hidden gem with all that we have to choose from within the following months.
Check out this video from YouTuber Moxsy where he talks about the looter shooter games that he is most excited about in 2023.