Independent retro development studio Green Boy Games has announced that the physical units of The Shapeshifter for Nintendo Game Boy will be delivered this July.
This physical edition comes with several extras such as a pocket guide, a collector's coin, and a high-grade packaging protection case for the boxes. Note that it is the first and only Game Boy game to comes with a Code Wheel.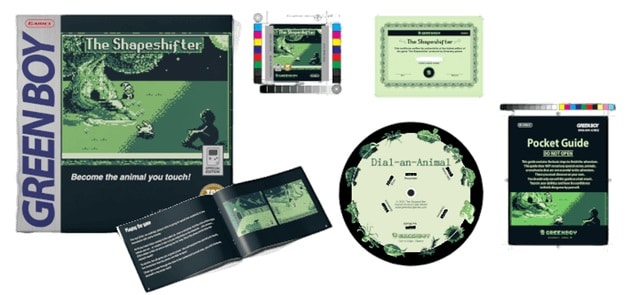 The Shapeshifter 2 Announced
With the production of physical units underway, The Shapeshifter 2 has also been announced to be coming soon on Kickstarter.
The Shapeshifter 2 will be available in a cartridge packed in a box with a manual and a lot of extras. The game will be fully compatible with all Game Boy, Game Boy Color, and Game Boy Advance handhelds.
Game Description
The Shapeshifter is a fantasy adventure game that puts you in the shoes of Elliot, an ordinary person who is going to spend the weekend in the mountains, where he meets an elf that will the power of becoming the animal he touches.
Features
New Game Boy game in cartridge format – including a box and a manual.
Lead Elliot in a fantasy adventure in which you can turn into the animals you touch and save the elven world from the wizard's spell.
Save and load your game.
More than 4 hours of gameplay.
Music composed by Cesc Mozota and Oscar Larorre.
Compatible with all Game Boy, Game Boy Color, and Game Boy Advance handhelds.
About Green Boy Games
Green Boy Games is a one-man Game Boy games development company managed by Dana, creator of The Shapeshifter, Where is My Body?, Micro Doctor, Lunar Journey, Submarine 9, and Leo Legend. All of these games are sold and distributed in physical cartridges since the main idea of the studio is to keep alive the spirit and gameplay of this legendary console.
Source: Press Release