Game publisher Perfect World Entertainment and developer Echtra Games have announced that video game Torchlight III Winter-themed update Snow & Steam is coming to all platforms.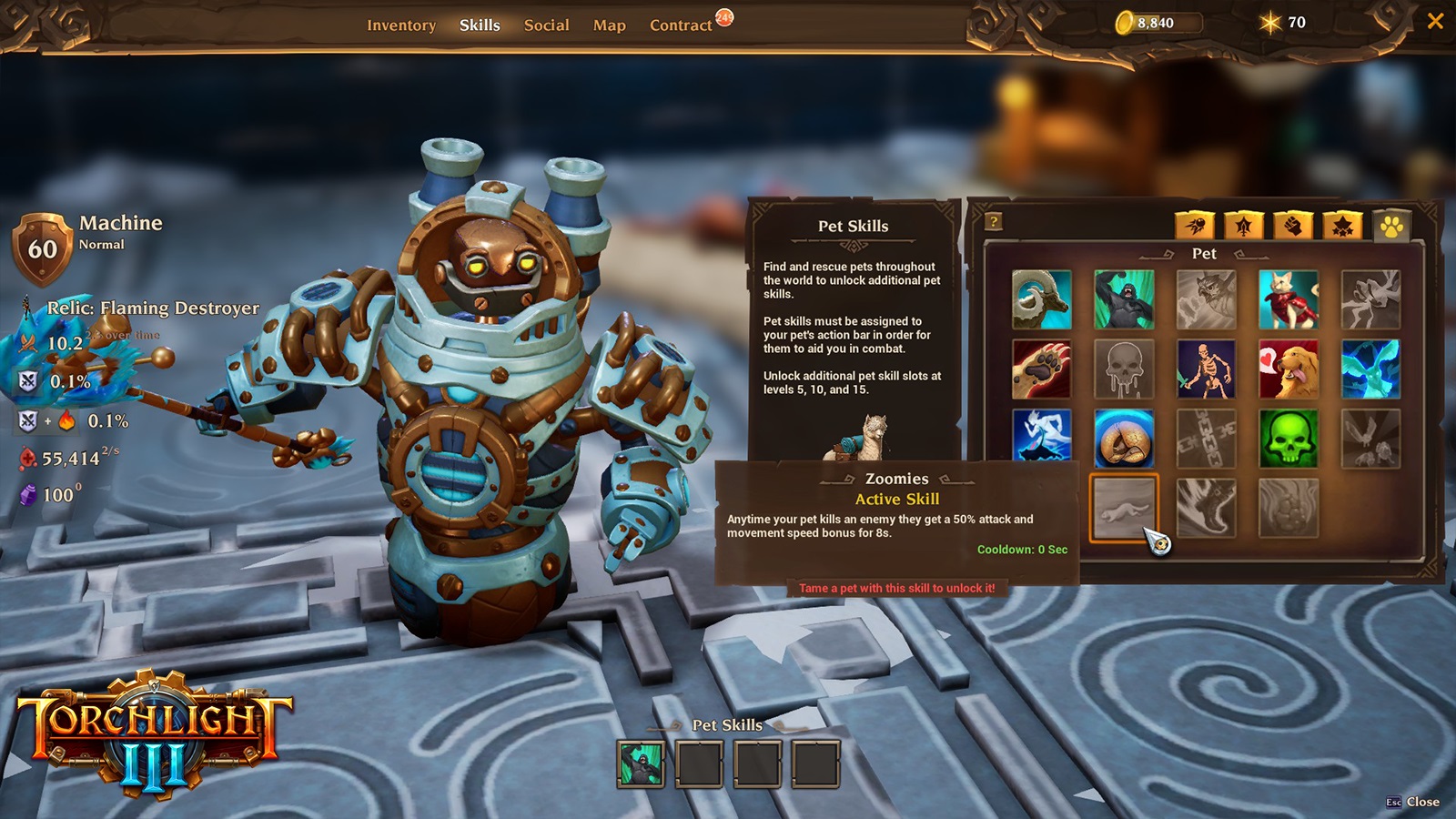 Snow & Steam is coming to PC via Steam, Nintendo Switch, PlayStation 4, and Xbox One. This is a large patch that will be coming to the game since its launch way back in October. It will bring a lot of holiday cheer to the light-hearted and fast-paced dungeon crawler.
The update will add four new pets and one variant of a furry companion, eleven brand-new legendary items, a legendary armor set, new fort decorations, a new Style Station that allows character customization, and more. It will also add a lot of quality-of-life improvements like a revamp of the Forge class and changes to the Fazeer's Dun'djinn.
With the update, a new, limited-time "Snow & Steam Contract" has been added that gives players the chance to spend the holidays with two new furry companions — the Frost Owl and the Ugly Sweater Cat. Players that make progress for this contract can earn additional content, including snow-based fort decorations plus an assortment of rewards. This time-limited contract will only be available during the holiday season, but the items unlocked will be permanently available to players who obtain them during that time. In addition, players can also find two new pets, an adorable Reindeer and the Jolly Ferret, and a special winter holiday-themed variant of the well-beloved Retriever pet across the frontier and in dungeons.
While hacking and slashing through the frontier, players can experience the joy of acquiring five brand-new legendary weapons, with four weapons — The North Mace, Glacier's Edge, Frostwall and My Lil' General — being part of the Arctic Armaments weapon set, and there's also one unique weapon, Toymaker's Tool. Players can also find the Winterweave armor set that has the Lucky Adventurer skill, granting +20% item luck and 10% movement speed for 30 seconds when a player slays an Elite enemy. The new Winterweave items are permanent additions to the game and can only be found by level 47+ characters. Two new rare helms, Frostform Head, which transforms a player's head into a snowman head, and Elfin Cap have been added as well to get players even more into the holiday spirit.
Additionally, Snow & Steam introduces quality-of-life improvements for all players to enjoy. The Forged class is letting off some steam with major combat upgrades and a new HUD to make it a more viable class. Fazeer's Dun'djinn has also received adjustments — including more affixes and rewards — and there have been changes to the Fort system, like the brand-new "Style Station" that's available as soon as players have unlocked their fort. The new station introduces transmog and dye features that allow players to customize the look and color of their gear.
Torchlight III is the successor to the ARPG cult classics, Torchlight I & II, originally developed by Runic Games. This fast-paced dungeon crawler brings fans back to the beloved Torchlight universe to hack and slash their way through a brand new world filled with hordes of goblins, undead and other dangerous Netherim creatures. Adventurers can party up with friends or venture into the vast wilderness alone, where they will find loot, explore dungeons, collect epic gear and build their very own fort to show off to the world. Torchlight III features four unique hero classes (Dusk Mage, Forged, Railmaster and Sharpshooter), plus a myriad of new and familiar combat pets to help players fight their way to fame and glory.
Source: Press Release
Here's the trailer: