Total War Saga: Thrones of Britannia is a strategy turn-based game where players are sent back in time to 878 AD where the entirety of Britannia is plunged into war. As Britannia was plunged into war, it's your job to settle things and strategically lead your armies to victory to settle things. Politics will happen and wars will ensue. But only the strongest will stand above and unite Britannia under one flag.
I've only played a few games from the Total War series with Total War WARHAMMER being the first one I played. Total War: Thrones of Britannia had a more historical feel to it in comparison to the medieval fantasy that I experienced in the other Total War games. Nevertheless, it was a pretty good game.
Platform Reviewed: PC
Platforms Available: PC
Developer: Creative Assembly
Publisher: SEGA
Release Date: May 3, 2018
MSRP: $39.99
This review is based on a review code provided by SEGA.
[wp_ad_camp_1]
Graphics: Awesome
The graphics of Total War Saga: Thrones of Britannia were definitely no pushover. The grass appeared like real grass; one could actually see the blades swinging in the wind. Mountains, the terrain – everything was wonderfully made. Battles-wise, they made the models quite well especially during the clash. There were also some graphics they kept faithful to the historical time period such as the art for the troops. Sometimes, too much good graphics can be a bad thing but Total War Saga: Thrones of Britannia definitely balanced it out with both good and old style art.
Storyline: Very Good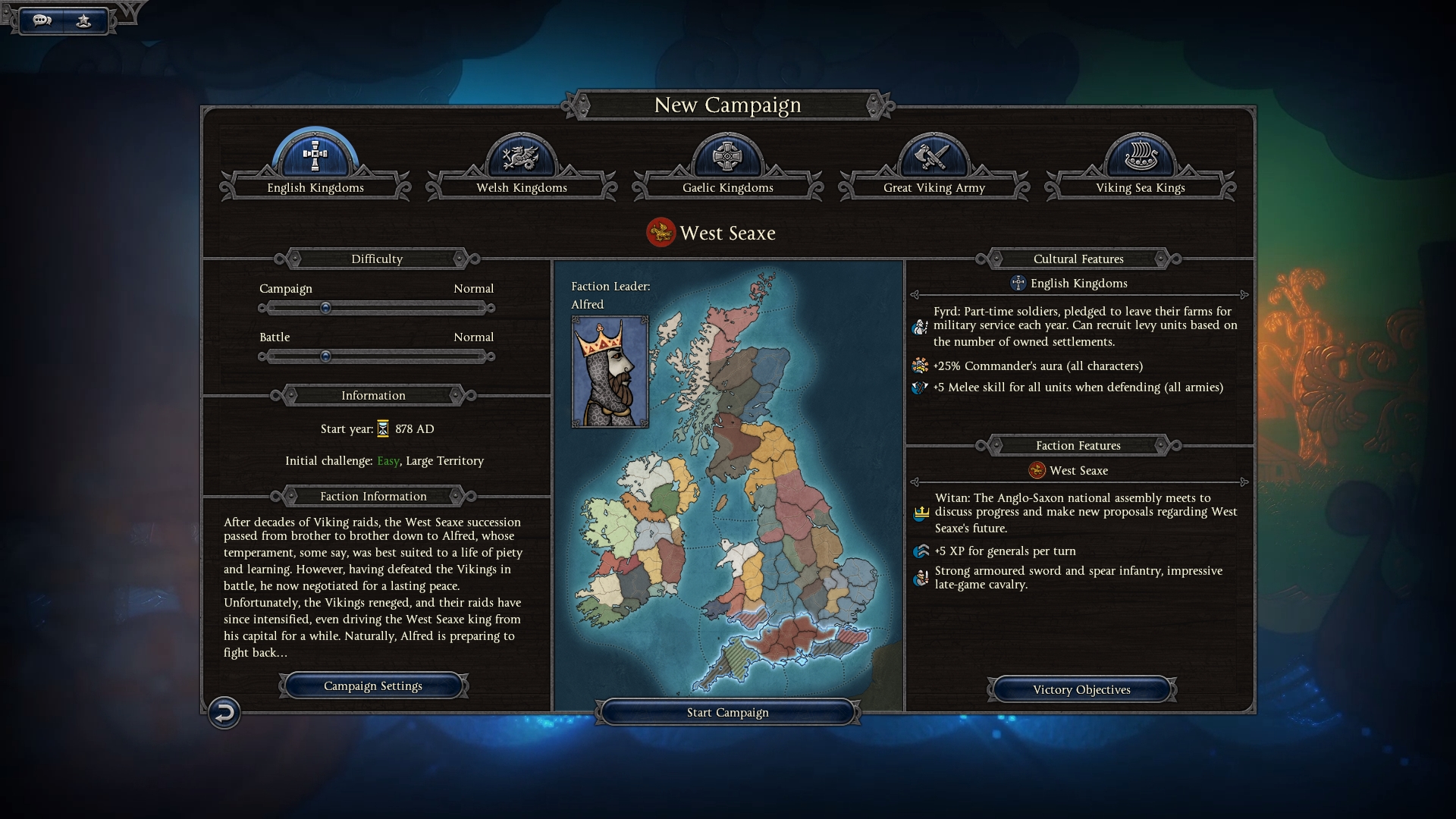 For those who are not history nuts, they may not appreciate this version of the Total War Saga in comparison to those who are. The Total War Saga: Thrones of Britannia is historical fiction which may have a bigger appeal to those who are history nuts. Taking into account also those for laymen, it does serve as a good basis for those who want to learn about Britannia's history even if just a brief overview with some immersive elements.  It also includes the invasion of the Saxons which people may not know much of. Personally, I love history and especially those with epic heroes so this part was quite appealing to me.
[wp_ad_camp_1]
Gameplay: Average
I'll let you know ahead: the game may not be so beginner friendly on first approach. It's a bit more complicated that it may need other people to help you understand how to move characters and the sort. The expansive UI (User Interface) can get kind of confusing. So it's okay to take your time even if it's just the first turn during the campaign. At the same time, the gameplay of Total War Saga: Thrones of Britannia pales in comparison to Total War WARHAMMER. In the latter, you can actually see the Terrorgheist making short work of the enemy forces. Or, you can also see your Grave Knights busting through the enemy lines which is awesome to watch instead of watching regular humans waving their weapons.
The harder part is actually looking all over the map. Because the areas are quite far apart, it can be quite difficult to figure out where to launch an attack. Although there was a notification system, it still kind of got confusing especially when I was planting my troops to kill things.
Overall: It's okay
It's not exactly a game I would recommend to beginners. Most especially those who are just starting out. This game requires heavy thinking and is not meant for burning up time or mindless playing. It's like playing digital chess except with a lot more micromanagement. Though, if you want something more appealing, I may have to suggest the Total War Warhammer game over this one.
[wp_ad_camp_1]
Total War Saga: Thrones of Britannia - Review
Score Definition
You better have to choose if it's worth spending your spare cash, because it might not be the game for you and it might be for others.
Pros
Balance of gameplay and graphics
Enjoyable for history nuts
Immersive
Cons
Not beginner friendly
Requires too much brainpower
For veterans
May not be as appealing as the other Total War games