Co-publishers All! Games and 505 Games recently announced that Ghostrunner, a title developed by One More Level, 3D Realms, and Slipgate Ironworks, will be coming to PlayStation and Xbox Series X/S in 2021.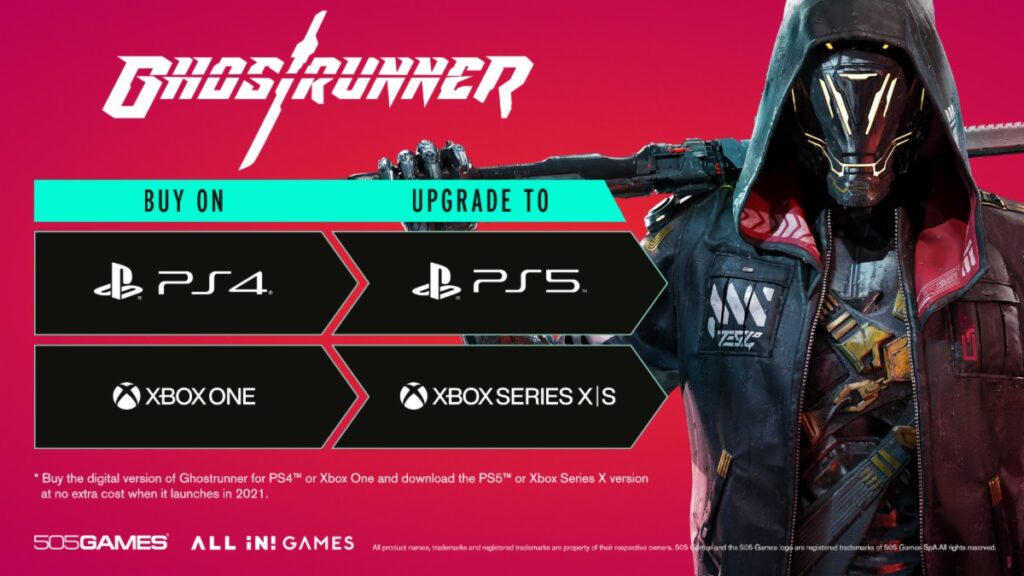 Players who have the current-gen version of the game can upgrade to the next-gen versions when they are released in 2021. There will be more details shared at a later date.
Purchase Ghostrunner on Xbox One to receive an Xbox Series copy via MS Smart Delivery
Fight through Dharma Tower on the PlayStation 4, then upgrade to the PlayStation 5 version for free upon its launch in 2021
Pre-order on current-gen systems before Tuesday, Oct. 27 for limited-time discounts and exclusive swords:
1 special katana with all pre-orders
1 additional exclusive katana per store/platform
20% discount for PS+ pre-orders
20% discount for all PC pre-orders
10% discount for all Xbox One pre-orders
Ghostrunner will be available on Nintendo Switch, PlayStation 4, Xbox One and PC via Steam, the Epic Games Store, and GOG on Tuesday, Oct. 27. The game will launch on PlayStation 5 and Xbox Series X in 2021.
The PlayStation 4 and Nintendo Switch versions of Ghostrunner will be published by H2 Interactive in Asia.
Source: Press Release