As both an introvert and a non-golfer PGA Tour 2k21's Luscious Green courses and solid gameplay made me yearn to try out the sport for myself. It has this sense of polish that's befitting for such a prestigious game like Golf, which is why I consider it a hole in one.
Like most modern sports games, PGA Tour 2k21 starts with MY PLAYER customization, but unlike other modern sports games, there is no stat system to worry about, which in my opinion is quite refreshing given how other sports titles heavily monetizes character stat points. Giving us one less thing to worry about and allowing us to focus more on how we play.
Being a non-golfer and not having any experience with golf games, I may have fumbled on the tutorial section quite a bit, but Luke Elvy's magnificent narration and PGA Tour 2k21's in-depth instructions guided me in the right way. Right off the get-go, you will learn the importance of having a steady thumb and thumbstick as these two are essential to getting the best results.
PGA Tour 2k21 will ask you which thumbstick would you prefer to aim and swing with and I highly recommend using your dominant thumb to swing as picking the latter may lead to sub-par performances.
Swinging will require you to pull down the thumbstick up until your golfer reaches the top of their backswing, you then need to push the thumbstick straight up to complete your swing. On your HUD is a power gauge and a Swing Plane, which will tell you how powerful and how accurate your swing is. The straighter the line on the swing plane, the more accurate the swing. It may take some time to get that perfect swing motion regularly, but mastering it is essential to winning games and tournaments.
In the game of golf, the swing is just the tip of the iceberg as there are a lot of little nuances that come into play even before you swing that club. The player should take into account which club to use, the wind direction, the angle of approach, and more. That's a lot to think about, but PGA Tour 2K21 gives you all of that information in your HUD and it's really up to the player to make the most of it. Learning how to properly adjust and prepare is what separates that sought after first from third.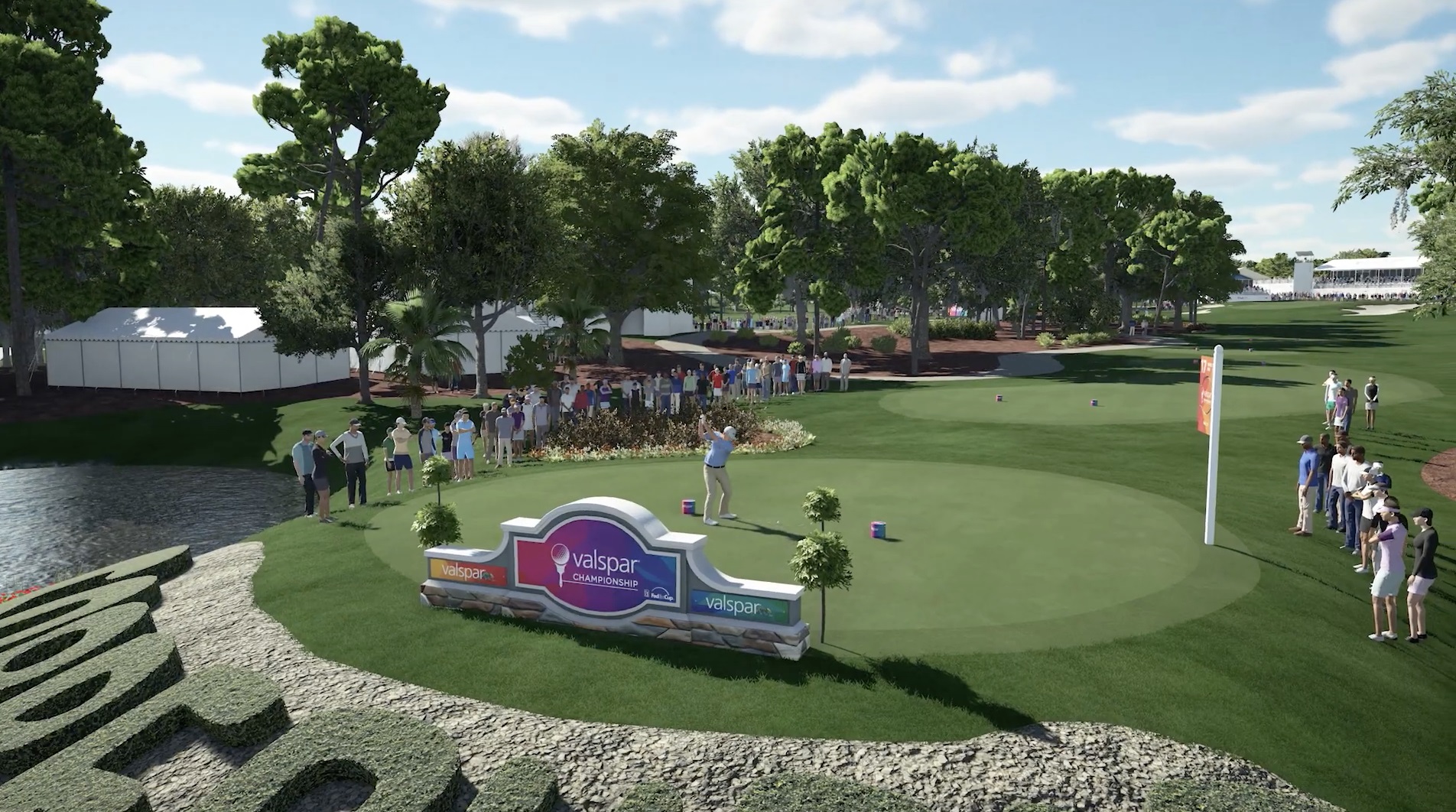 Beginners, like me, need not worry though as you can adjust the difficulty as you see fit. The Beginner difficulty will give the player tips and suggestions on the little nuances like which club is best and which type of shot to use in situations. This allows the player to focus more on their swing and worry less about the little things. The higher levels of difficulty remove these recommendations altogether and even higher levels will remove the HUD entirely, allowing for a pure Golfing experience.
Now you'll be doing all that swinging and putting in one of the 22 real-life courses available in the game. The vast landscapes, luscious greens, and even the local wildlife have all been painstakingly rendered in the game and it adds to the feeling of actually playing in these real-life Golf Courses. There was even one time when I tried to drive my ball straight to an Aligator near the lake to see what would happen, but sadly my aim wasn't that well and missed the gator entirely. There is also a Golf course editor mode, which will allow you to adjust a course to your liking. It doesn't give as much freedom as say a park simulator, as you can only adjust values, but I still had a good time swinging my club in my own 27 hole Desert course.
Now Hitting all those birdies and Eagles would be a lot less fun without commentators, luckily PGA Tour 2k21 has probably the best commentators that I've heard from a sports game in years. In most titles, the commentators usually talk over the action and the player, but PGA Tour 2K21's Luke Elvy and Rich Beem make you feel like the highlight of the program. Aside from their colorful banter and insight, the commentators also voice out your frustration in missing easy shots and they also share the adulation whenever you hit a tough one. Making you feel like what you do actually matters.
When it comes to game modes, PGA Tour 2k21 has all that you've come to expect in a modern sports title. Play now allows you to play a quick game with bots or friends. Social, allows you to pit yourself against other players around the world in an online tournament and the highlight, PGA tour, in which you get to play tournaments against pros like Justin Thomas. It may take you a while to get to the pro circuit as you'll start from the amateurs, but all those tournaments will definitely help you get better along the way. Playing games and winning tournaments will net your character XP points and coins that you can then use to buy better clubs or vanity gear for your player.
What makes PGA TOUR 2K21 special is its ability to make you feel like you're really playing the prestigious game of Golf. The excellent commentators, The courses brimming with life, and the excellent gameplay mechanics all combine for an experience that all players of all skill levels will truly enjoy.
Score Definition
Almost perfect if not for the nitty-gritty. If it's quite there but not enough to push the boundaries, it's still an awesome game.
Pros
Excellent commentators
Solid mechanics
Beautiful courses
Cons
Online Connection Required for Career Mode