In this day and age, journalism partially lost its credibility. Some journalists have personal agendas to attack key figures in the government. However, in the games industry, it's all about getting those views. Ranking up in Alexa.com is one of the important things that a website can achieve to get review copies or even potential advertisers – as long as an outlet do this the right and honest way possible.
Backlog Critic, a UK gaming website owned by Thomas "Tom" Olson, was accused of deliberately attacking indie game developers to gain views to rank their website statistics. One of their contributor, who was recently booted out from Backlog Critics' editorial staff, under the name Victor Vendetta, published a blog post over at Medium.com titled "Corrupt Gaming Site Backlog Critic" exposing Olson's intentions – even with the help of the site's Editor-in-Chief, Joanna Litingtun.
The outlet reported in the past that Phantom 8 Studios, the team behind Past Cure, went against their reviews and titled the news as "Twitter Meltdown". It seems that this was Olson's personal agenda to attract more viewership to their site.
For some unknown reasons, the blog post was removed by the user. If Olson tried to convince the contributor to remove the article, then he evidently forgot that Archive.is keeps the page alive by archiving it when they're removed from the web.
At the time of this writing, Backlog Critic's website is now inaccessible and they deactivated their social media accounts. This obviously shows that Olson is at fault here, and this fiasco definitely breaks his reputation in the games industry.
You can read the full content of the article below as we've tried to retain as much writeup as we can:
[alert type=white]
"Corrupt Gaming Site Backlog Critic"
How Founder Tom Olson Urged Backlog Critic Reviewers to Trash Games and Developers for Views
A few months ago I started writing for gaming site Backlog Critic, owned by Thomas "Tom" Olson from Nottingham, UK. At first I was glad to contribute to a site that could grow into something worthwhile. Soon, however, Olson started urging reviewers to trash indie games and developers as a quick and easy way to rack up views and boost the site's Alexa ranking.
In February he wrote a negative review for the indie game Past Cure by Phantom 8 Studio. When the developers asked for feedback on Twitter, he sent them his review. When the developer responded as one is expected to when being criticized, he wrote up the exchange as a "Twitter meltdown" and capitalized on it for more views. It was the post with the most views the site ever had, and it reached a 580 degree on N4G. He only removed the page from the site when the developers practically begged for it to be removed.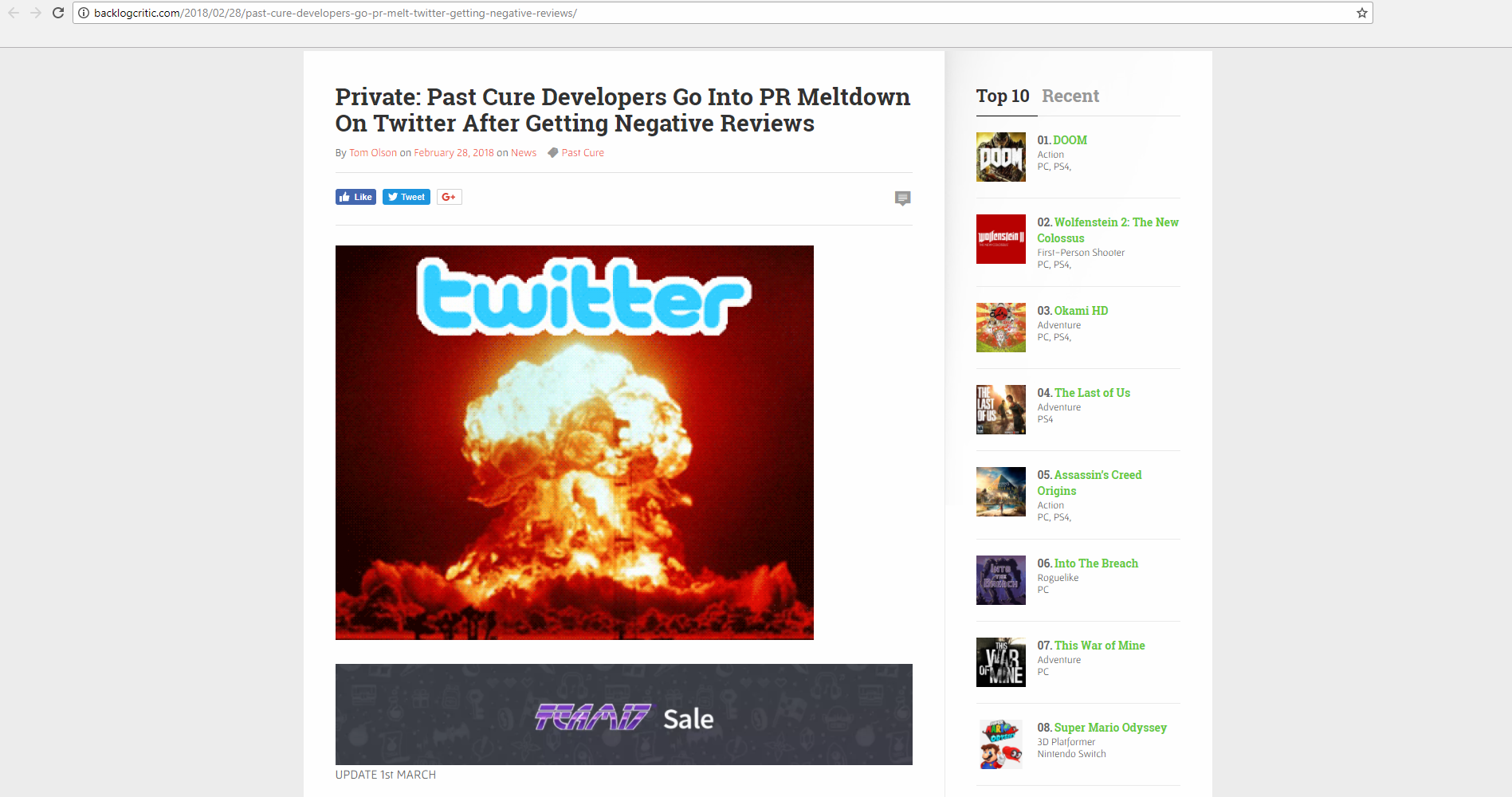 He then celebrated the incident in the Backlog Critic Slack workspace, and some of the contributors cheered and laughed about it. I blacked out some of it to protect the identity of contributors who had nothing to do with it and didn't really approve of it.
But that was just the start of it. Realizing he could bully and pester developers and get away with it while farming views, he started saying he would do it again, as "the numbers were worth it". He had the support of editor-in-chief, Joanna Litingtun.
A few days later he talked about a developer who had rejected his request for a review key and said he was going to pirate their game, "slam it in a review and kill another game developer team". The editor-in-chief once again urged him to do it, in capitals.
Of course he will definitely say he was only joking about this. Yet on April 28 it came up again, this time he even offered to reimburse a reviewer willing to buy and "destroy" the Switch version of the game Jotun by Thunder Lotus Games. Some of the reviewers found this funny and said they would agree to do it, if they had a Switch.
A few days earlier he had urged someone to write a negative review for another Switch game, The Legend of Zelda: Breath of the Wild, because he could "see that blowing up on N4G". A reviewer had already written a "Why You Should Play Breath of the Wild From Your Backlog" review and it was a popular post. That wasn't enough. Not even major games and developers with a pristine record can avoid a negative review on Backlog Critic, as long as it gets Olson the views he wants.
Olson removed me from the site and the workspace about two months ago, but I kept in touch with some of the contributors who agreed that Tom is a sketchy and dishonest guy. One of them told me what was happening since I was removed and shared some of these screenshots, so we talked about exposing him. He will deny it, he will try to do damage control, but he knows this is all true, and so do the other contributors who encouraged him and his despicable behavior. There were other incidents and misdemeanors, cases where he was rude and disrespectful to the contributors, insulting them behind their back, etc. He even referred to his day-job coworkers as "retards".
We could provide dozens of screenshots showing his crude and disrespectful behavior. This guy is the very definition of toxic and he deserves to be buried.
We will do whatever we can to get him and his site blacklisted by every indie developer and PR company. And he knows we're in the right in doing so.[/alert]