Much like in previous Call of Duty games, Call of Duty: Vanguard has a big list of Operators that players can make use of. Players have always enjoyed being able to use Operators whenever they play a game in Warzone or a specific Call of Duty game's multiplayer map.
Players have immediate access to the default set of Operators but there are ways one can do in order to unlock even more either through the various challenges that the game has to offer or by purchasing premium packs.
So this guide aims to list all the Operators that have been confirmed so far and everything that there is to learn about them.
Call of Duty: Vanguard Operators On Launch
There are 12 confirmed characters on day one, and more arriving each season. They are divided into 4 classes:
Sentinel
When the KVA launched its attacks on the United States, the United States formed the Sentinel Task Force, a Tier One international coalition of Special Forces operatives, in response. They first appeared in Call of Duty: Advanced Warfare's campaign and Exo Zombies multiplayer mode.
Sergeant Arthur Kingsley
The leader of Task Force One. Born in the Douala region of Cameroon and enlisted in the British Army. He's able to speak English, German, French, Portuguese, and Bantu. A natural-born leader who cares greatly for his team and not only does he strive to protect them but also to earn their respect.
Constanze Trude Muller
There isn't much to say regarding Muller, this is a person of mystery except for the developers and all we really know is that this character is a German military defector.
Padmavati Balan
A natural-born leader just like Kingsley and is known for making their presence felt.
Shadow
A Tier One private military company and Allegiance sub-faction featured in Call of Duty: Modern Warfare and Call of Duty: Warzone, Shadow Company is a private military company and Allegiance sub-faction.
Lieutenant Polina Petrova
Petrova was born and raised in Stalingrad that will strive to defend her country. Petrova was compelled to take action thanks to the Axis invasion of Operation Barbarossa. Her years of hunting with her father and brother have given her the sharpshooting skills she needs in order to help fulfill her vengeance for everything she lost.
A woman of few words where when she speaks, they have purpose and impact.
Solange Hardewijk
A Dutch Aruban Agent whose information is being kept under wraps by the developers.
Shigenori Ota
A Japanese Navy defector who is ready to help take down the Axis forces.
Hellhounds
Call of Duty: World at War, Call of Duty: Black Ops, Call of Duty: Black Ops II, Call of Duty: Black Ops III, and Call of Duty: Black Ops 4 all feature Hellhounds as a deadly zombie threat. But we do not know the exact origins of Hellhounds Operators yet in Call of Duty: Vanguard and whether or not if they are linked to the Hellhounds we knew in the franchise.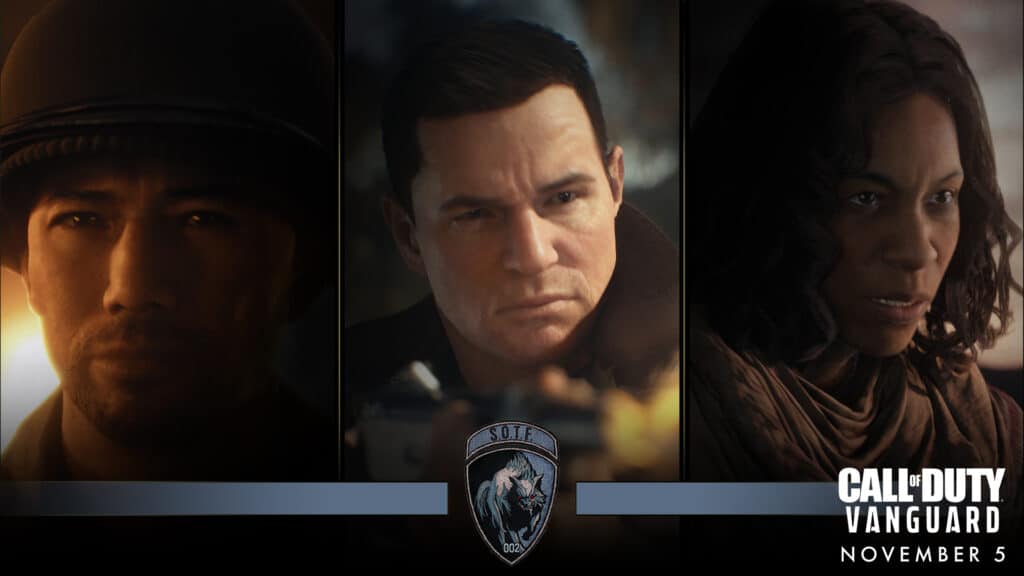 Lieutenant First Class Wade Jackson
A true-blooded New Yorker from Brooklyn whose natural home is above the clouds rather than on the ground. He loves to perform his own stunts even if it jeopardizes the mission. A charismatic and enthusiastic rebel who managed to earn his wings as a dive bomber. He's a lone wolf but would gladly welcome anyone brave enough to match his daringness.
Halima Zambardi
Other than being an Italian Somalian there's not much information available as of yet but is available as an Operative right away.
Daniel Take Yatsu
Little is known about this Operator but he will be available right away.
Barbarian
Barbarians was a special event in Call of Duty: Black Ops 4. The Barbarians special event served as a supply stream for the Contraband Operation Absolute Zero, which was also taking place at the same time. Barbarians must be know for their dealings with the Black Market.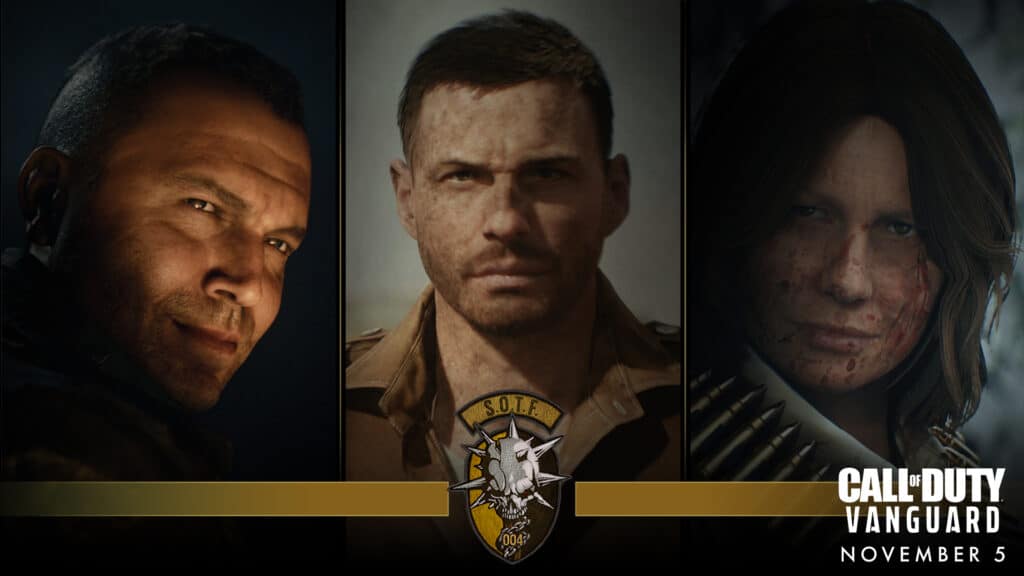 Private Lucas Riggs
A man whose actions are described as being "highly combustible". Born to sheep farmers from Australia, he joined the army almost immediately in order to see the world and fight the bad guys. He's described as a gentle giant to his allies but is described as a literal explosive force by his enemies.
Beatrice Mercier
A French resistance fighter with little information to go around with.
Roland Zeimet
An Axis defector whose goals revolve around taking down the German forces.
Sergeant Richard Webb
Sergeant Richard Webb is the right-hand man and a very close friend of Arthur Kingsley. He grew up in a family full of academics and followed in his father's footsteps not knowing he would have to join the war when the draft called for him.
Webb and Kingsley may be the best of mates but their leadership styles can be at odds with each other. Webb will be accessible as an Operator at launch.
Call of Duty: Vanguard DLC Operator Skins and Bundles
As we get closer to launch day, we only have one set of unique Operator skins that have been confirmed on launch, The Task Force One Pack. Sadly, the only way to gain access to them is by purchasing the Ultimate Edition of the game.
Here are the following skins in the Task Force One Pack:
The Arctic Shadow skin for Lieutenant Polina Petrova of the 138th Rifle Division, Red Army.
The Shepherd skin for Second Lieutenant Lucas Riggs of the 20th Battalion, Australian Military Forces.
The Bomber skin for Captain Wade Jackson of Scouting Squadron Six, United States Navy.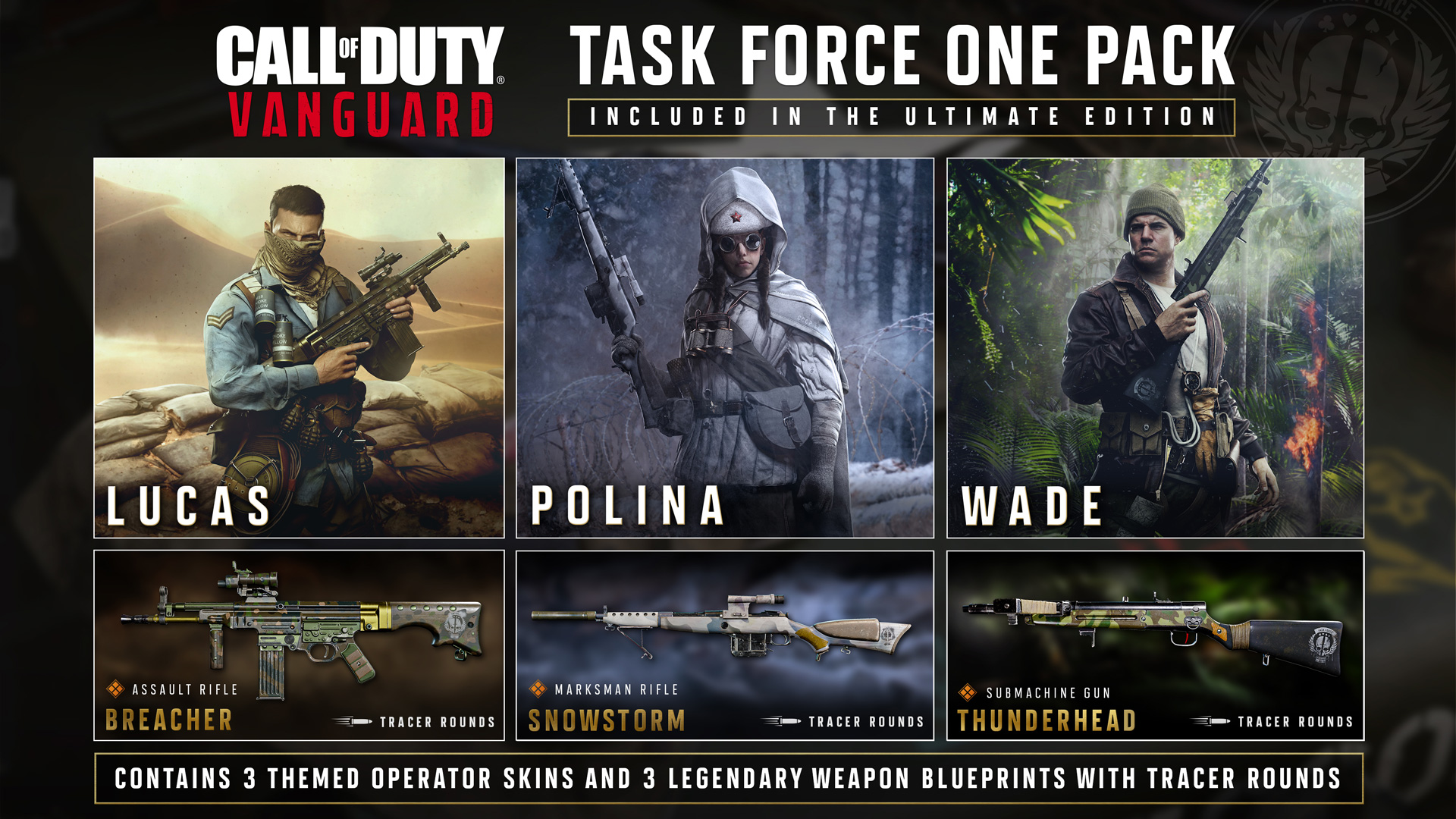 In addition to these three unique skins, players will also receive three legendary weapon blueprints with Tracer Rounds.
Call of Duty: Vanguard Operator XP system
Operator XP is a level of experience that operators have in Call of Duty: Vanguard. By leveling up your Operators, they can gain access to exclusive attires, Weapon XP for specific weapons, and other perks and bonuses. Using an Operator's favorite weapon also results in Weapon bonus and Operator XP for the player who uses the weapon.
When Call of Duty: Vanguard launches on November 5, players will be able to grind their way through an entirely new progression system that is solely focused on these Operators. In Vanguard, leveling up your account will not be the only way to obtain new cosmetics.
Unlock Special Attires
With Operator XP, you can now level up specific characters simply by playing them in multiplayer. This applies not only to all Operators present at the time of Vanguard's launch, but also to Operators who will be added in future seasonal updates to the game. Operator XP is earned alongside all other forms of experiences in Vanguard. Simply playing the game, completing matches, and racking up kills will all help you move up the ranks in each Operator's progression system.
As teased by Activision, the highest tier unlocks a "special Gold attire." However, some unlocks are merely recolors, but others are entirely new designs. As an example, here's Sergeant Arthur Kingsley. While this Operator retains his default appearance, simply playing as a British Paratrooper grants access to a plethora of new skins and outfits.
Use Specific Loadouts to Level Up Faster
It's worth noting, that in Call of Duty: Vanguard, using each Operator's specialty weapon may help you get through the grind faster. Not only does this grant you additional Operator XP, but it also grants you bonus weapon XP in addition.
Taking Polina Petrova as an example, we already know that she is a sniper in the Call of Duty: Vanguard. Using her as an Operator in multiplayer while also carrying a sniper in your loadout will ensure that you get the most XP possible!
The game has yet to be released so there's still no news on any new Operators that we might be getting when Season 1 rolls but we can expect to see a small set of new Operators once it does. We'll also be expecting some Operator Skins to go with them and not to mention the variants.
Stay tuned for more information regarding the latest available Call of Duty: Vanguard Operators as soon as we have new details to share right here on Sirus Gaming. For more on Call of Duty: Vanguard, you can check out our guides on pre-ordering and maps and game modes.