The story of Dreamlords Digital and Graywalkers
Dreamlords Digital was originally a small game design company that aimed to create a triple A game. This idea then became Graywalkers where it brought together different ideas from different turn-based games. Once compiled, they then created Graywalkers Purgatory. This game that takes place in a dystopian land where the player must gather the destined 36 to save the world.
Graywalkers: Purgatory brings together the elements of magic, fantasy, and modern day apocalypse. Players must venture the destroyed wastelands of what remains of the world to try and restore it. As the player further ventures through the torn wasteland, they discover more of the tragedy that seized the world. Battle through monsters, demons, angels and travel through different walks of life as the player discovers how to restore the world to its former glory.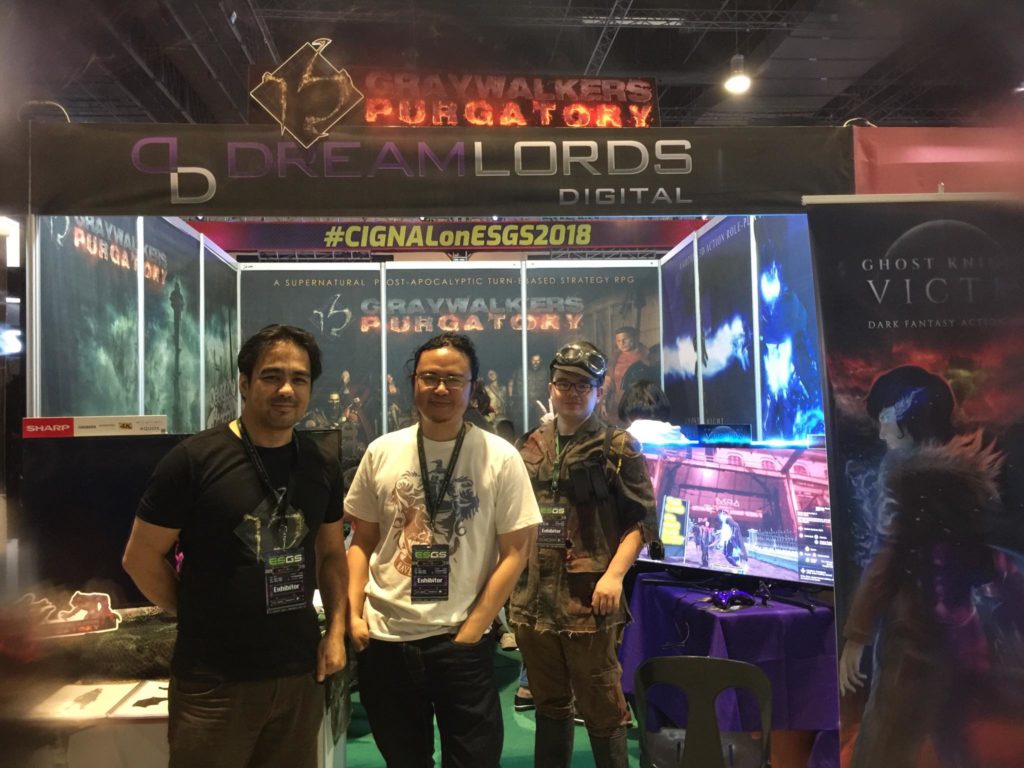 Dreamlords Digital has come a long way. From having just an Alpha Demo and a Steam Green Light for Graywalkers: Purgatoryto a pre-order sale for Graywalkers. Graywalkers is currently at 16 USD (around PHP 900) which is definitely cheaper than most triple A games. The best part is, Dreamlords Digital brings to you a game that is locally made. Their art and graphics are proof that even Pinoys can match the quality of games that the game design giants can dish out. Another game they announced is the game Ghost Knight Victis, made by only one member in their team.
[wp_ad_camp_1]
Interview with Dreamlords Digital
Q: What made you create Graywalkers: Purgatory?
"When we created Graywalkers, we wanted to make a triple A game that would be recognized internationally. We were also inspired by other dystopian games like X-Com and Fallout. But we wanted to add something else, something that we gained from playing Tabletop RPGs which is why we created Graywalkers Purgatory."
Q: What were the roadblocks when you created Graywalkers: Purgatory?
"It wasn't just singular issues! There was time, money, and a whole lot of things to make sure the game came together! We wanted to make sure that everything fit well that we even decided to create our own engine for the game!"
Q: When do you think the game would be completed?
"We're making Early Access hopefully available at the end of the year. And we're not just going to stop there, we're going to make sure that our game comes out in the middle of next year!"
Q: It appears you have another game available! How far along is it?
"Oh it's still in development but we're working on that too! We focused majority of our resources to Graywalkers that only one person did everything for Ghost Knight Victis! Right now, this [Ghost Knight Victis'] preview is a big announcement for everyone to wait for another game that will be published!"
Q: Where will the game be available?
"The game will be available on Steam soon! But we already have 6 packages available for people who will be pre-ordering the package on our website!"
Q: Are there plans of making the game a multiplayer?
"Oh yes there are plans! But we want to make sure we create the whole game first! We're planting a lot of different mechanics into it! Such as players being able to integrate mod-editors and so!"
Q: Anything you'd like to tell your readers?
"We'd like everyone to know that Graywalkers is now available to be pre-ordered! Don't forget to visit our website to find out more about Graywalkers!"
Don't forget to check out their FB page for more news about the Graywalkers!
[wp_ad_camp_1]