Update: Twitch has made an official statement regarding the hack that happened earlier and is now investigating.
Twitch has confirmed that a breach has taken place and that their teams are working with urgency on handling this situation. "We will update the community as soon as additional information is available. Thank you for bearing with us."
---
Original Story
It seems that Twitch, the popular streaming platform, has just gotten hacked by an anonymous hacker who claims to have breached the platform and taken an absurd amount of data including some source code, Twitch's mobile, desktop, and console clients, passwords, streamer earnings information, and so much more.
The hack was released on 4chan as a 125GB torrent. The hack appears to contain data all the way back from 2019. The hacker has noted that while 125GB of data is a significant amount, it is only half of the leak and there's still more on the way.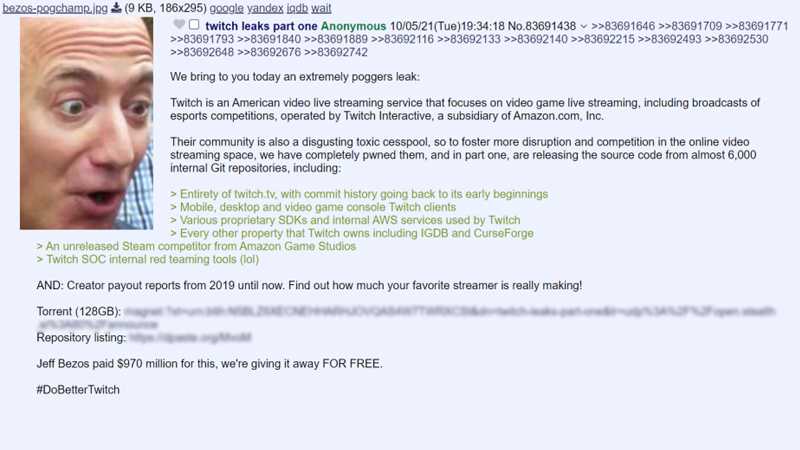 Twitch and Amazon have yet to make any official statements and there have already been reports that state that the leaked data is legitimate. The hacker has cited that Twitch's "toxic" community as a motivating factor for what has transpired. This comes after streamers and content creators have been making several movements for Twitch to do more in its power to protect its community.
The list includes a list of more than 10,000 streamers earnings on the platform which shows who are Twitch's most profitable streamers like Asmongold earning 2.5M, HasanAbi at 2.8M, shroud at 2M, summit1g at 5.8M, and many more. It is also important to note that this payout doesn't include donations or sponsorships.
One streamer, Nerdcubed (Daniel Hardcastle), confirmed the validity of the report at least for his earnings.
To go along with these leaks is that a new competitor for Steam, Epic Games, and GoG could be on the horizon and is called Vapor. The PC Storefront gaming space is already getting crowded and having another one added to the mix makes it even more so but this time its from Amazon of all places. The storefront is still in the works and will probably integrate a lot of features from Twitch and services from Amazon itself but there aren't enough details on the leaks currently.
For those that use Twitch it might be a good idea to secure your accounts again and redo your passwords just to be on the safe side.
More information will be posted as soon as more information becomes available.