Publisher Toplitz Productions and indie developer Family Devs are celebrating after the Kickstarter Campaign for their wholesome sandbox life-sim game, Harvest Days, has been funded! They have since unveiled the game's stretch goals, and a plethora of possible features that fans can help bring to life.
As of the writing of this article, there is just just over 45 hours left to become part of this amazing project. Backers have pledged a whopping $20,712, effectively unlocking the 'Minigames' stretch goal. The next goal is the 'Bug Hotel' for $23,359.
Take things easy in Harvest Days, and leave the chaos of the city behind. In this pastoral sandbox world, you can let go of your day-to-day worries and unwind. Tend to your crops, ride horses through the wilds, kick back with the friendly townsfolk and fish for your dinner down at the river. Take it easy and watch your farmstead slowly evolve, or proactively invest in tools, vehicles, and upgrades to carve out your won little slice of paradise.
All backers of $23.35 or more on the Kickstarter will receive a copy of Harvest Days once it launches into Early Access (if they choose to receive a Steam copy), or their choice of console version on Consoles at launch. Backers will also receive a package of Kickstarter-exclusive goodies, including an HD digital wallpaper pack, a mention in the 'Friends of the Village' book in-game, plus any rewards have been unlocked through stretch goals.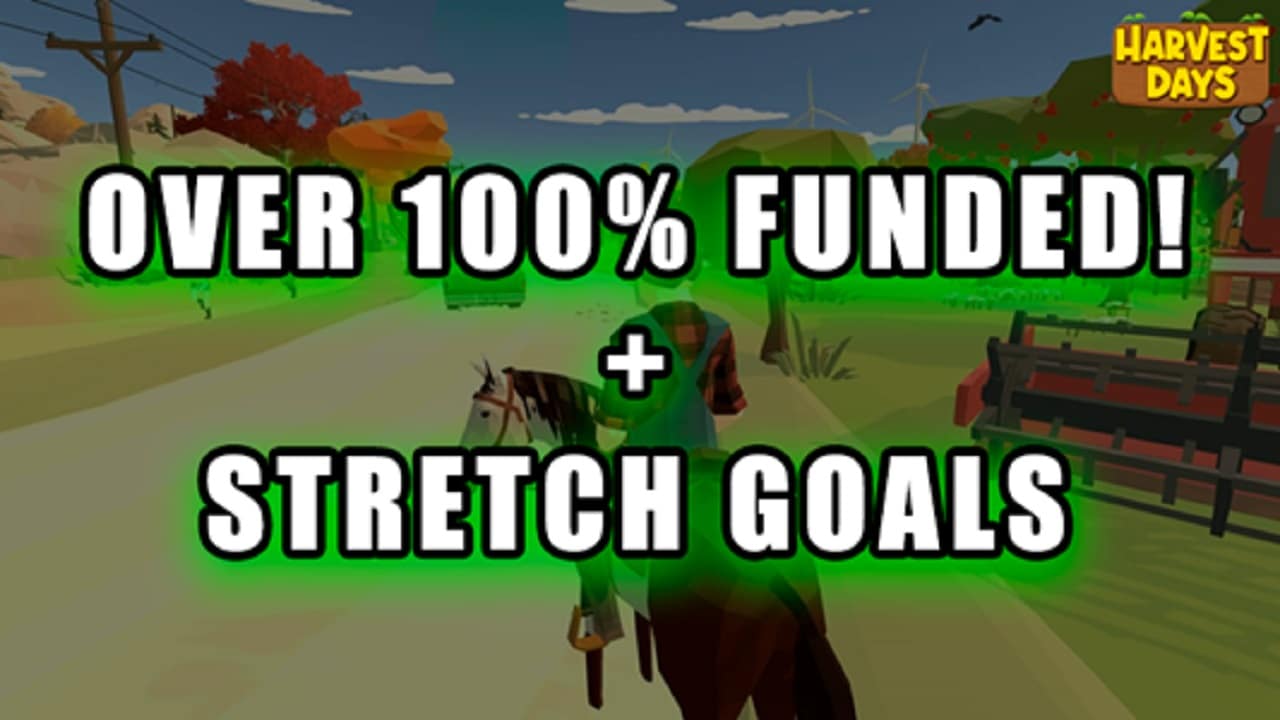 About Harvest Days:
A new life in the country is calling! Fulfill your dreams and manage your very own farm in this lovingly designed open-world game. Work hard, manage your business, and your little farm might grow into a personal paradise, surrounded by boundless, untouched nature. Kick back, unwind, and watch your dreams grow.
All these years you've had your nose to the grindstone, working 8 to 5, and all you've gotten out of it is a growing sense of emptiness, and a sense that you're missing something fundamental.
Childhood memories of simpler, more carefree times have been growing louder every day, filled with vivid recollections of days spent visiting your grandparents in the countryside. You dream of living surrounded by friendly animals, cheerful neighbors and the fruits of your own labor.
Enough is enough – it's time for a change, and to make that dream a reality! Pack up everything you can carry and head out to the country for that new beginning. Take over a small, forgotten farm and become one with nature. Care for the animals, tend to your garden, then harvest and share your fruits. With hard work, you'll be rewarded with a farmer's paradise to call your own.
Features:
Become a Farmer: Grow fruits and vegetables, look after animals, and sell your produce to the locals.
Get the most out of your free time: Go fishing at the lake, chat with your neighbors, or take your horse for a ride through scenic, wild environments. Never forget to put relaxation on the agenda.
Explore an open game world: Discover nature caves full of minerals, a ruined mystical temple, a mysterious swamp bubbling with secrets, and far more.
Develop your relationship with the locals! Become part of the village community and make new friends.
Buy, sell, and trade: Sell what your farm provides, invest the profits, and watch your paradise grow day-by-day.
Gather and Build: The world of Harvest Days is rich with resources. Gather wood, stone, minerals, gems, and even magic mushrooms to produce tools, meals, and mystery items.
Catch a Ride: Don't wear your legs to the bone, or your horse's – pick the right vehicle for the job. Harvest just a little too bountiful for one farmer? Invest in some heavy hardware to do the job.
Every Farm is Unique: Develop you new home as you see fit, make choices without pressure and foucs on what makes you smile.
Don't Forget About Yourself: It's not just your farm that needs tending to. Eat, drink, get plenty of rest, and unwind when you need to. What's the point of paradise if you don't slow down to enjoy it?
The full version of Harvest Days is planned to launch across all platforms in late 2022, with a PC-only Early Access version available in Q2 2022. The game will be fully localized into 13 languages – including Japanese, Chinese, and Russian. The is expected to release on PlayStation Xbox consoles, as well as the Nintendo Switch.
For more information about the game, visit the game's official website. You can also wishlist the game right now from its Steam page. (Includes a demo of the game.)
Source: Press Release