As soon as you start playing Battlefield 2042 , you won't be able to use all of the weapons because you'll have to meet the requirements for each one. There are numerous advantages to having complete control over one's arsenal.
With its impressive arsenal, Battlefield 2042 is a must-have for any fan of the series. More weapons are expected to be added in the form of DLCs and content updates in the future.
Battlefield 2042 is now available on multiple platforms and it offers tons of fun, a lot of modern weapons, customizations, attachments, and most of all, the all, new Specialists.
You may have to switch roles or change your combat style during the course of a match. If you want to improve your performance, you'll need a wide range of weapons at your disposal.
The best of the best in Battlefield 2042 aren't simply determined by their combat prowess; their equipment and firepower play a big role. With this in mind, we compiled a tier list of the top weapons, taking into account their firepower, usefulness, and just how effective they are in the game.
Here is our top tier list for all Battlefield 2042 Weapons ranked from best to worst.
Battlefield 2042 Weapons Tier List
These weapons are the ones that are confirmed during launch of Battlefield 2042. It had more weapons compared to the lineup during beta testing.
Battlefield 2042 weapons can change attachments before and during combat with ease with the use of the Plus System. This gives players more customization options and tuning whenever, wherever. Check out the table here to know which picks are in the highest tier and the ones you should avoid whenever possible.
| | |
| --- | --- |
| | |
| | Weapon selections that we are confident in, regardless of what your teammates choose. |
| | Top-tier weapons regardless of early, mid, and late picks. |
| | Weapons that are serviceable and can have an impact on a match if they are used correctly, but can be replaced if better weapons are found. |
| | Only use these weapons if you don't have a choice. |
| | Just stay away from these weapons. |
So here, check out our personal picks and ranking them from best to worst in Battlefield 2042. We will also show the requirements needed to unlock them in-game so you will know when to get them.
S-Tier
The best of the best weapons in the game; S-Tier weapons are selections that can be relied on by anyone easily without any issue. They are flexible and can inflict damage without wasting a lot of bullets.
SFAR-M GL
Designed for SOCOM. Default chambered for standard NATO 7.62mm rounds. Capable of both semi-auto and automatic fire. The standard EGLM 40mm grenade launcher and you can deliver a lot of damage to a variety of targets. While it has its negatives, you cannot just ignore that it has a grenade launcher attached. Very helpful in clearing out crowds.
Unlock Requirement: 27
PBX-45
Developed in the private sector for potential foreign military and NGO clients, the PBX-45 offers a powerful .45 ACP alternative to lighter submachine guns. The delayed blowback operating system reduces barrel rise. A blessing in disguise that this has no unlock requirement and also the best SMG to have.
Unlock Requirement: None
LCMG
With a lineage tracing back to US Special Forces in the Vietnam War, the LCMG's lightweight construction and constant recoil system provide unprecedented control. An ideal fire support weapon for squad assaults. With the right attachments, this can be a menace and even be on par with sniper rifles.
Unlock Requirement: 3
SVK
Heavily influenced by its Western counterparts, the Russian-made SVK is a gas-operated, short-stroke DMR with a max effective range of 1,500m. Close enough to be a sniper rifle with insane range.
Unlock Requirement: None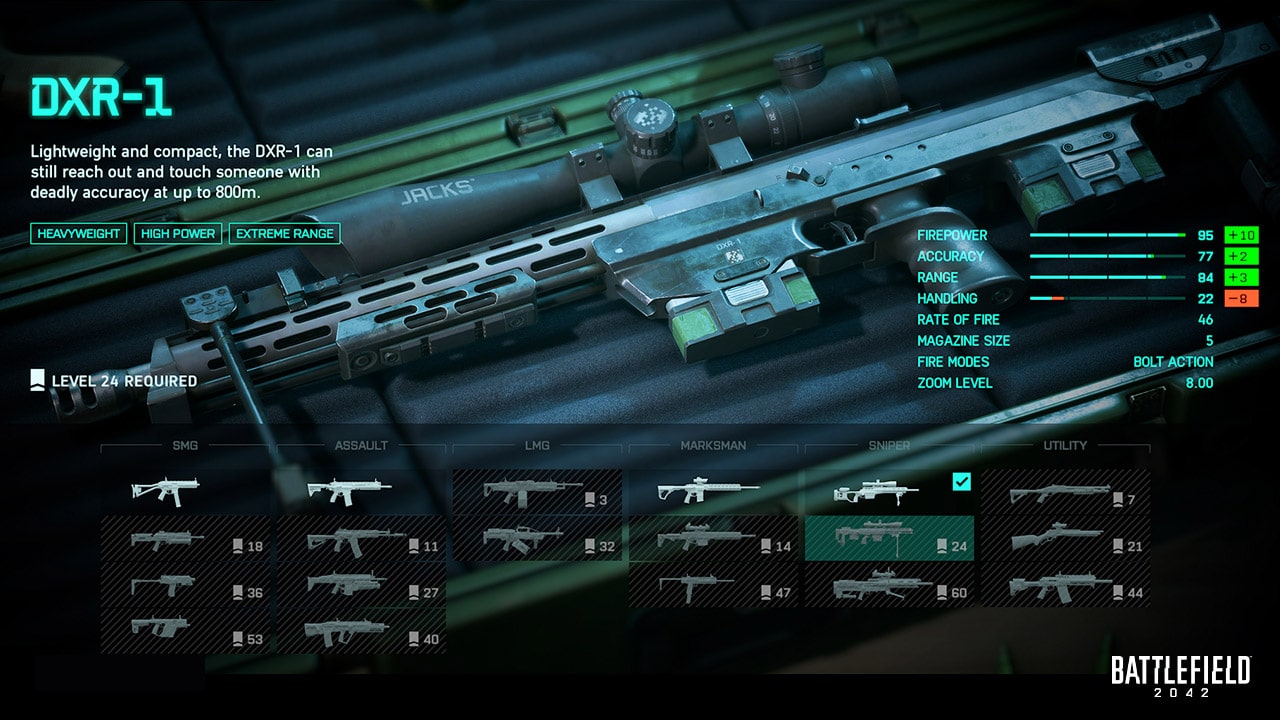 DXR-1
Lightweight and compact, the DXR-1 can still reach out and touch someone with deadly accuracy at up to 800m. The deadliest among sniper rifles and does not need a lot of bullets to drop enemies dead, but has more ammo compared to the other sniper rifles.
Unlock Requirement: 24
M44
Originally designed for big-game hunting, the M44 packs enough punch to bring down the most dangerous of predators. The must-have secondary weapon to bring in a close-ranged fight.
Unlock Requirement: 29
A-Tier
A-Tier weapons are good ones to choose with only a few negatives on its stats. These would be the good ones to pick if weapons from the S-Tier list have not been unlocked yet.
M5A3
The US Military's standard-issue rifle since 2034, the M5A3 can be chambered for a variety of rounds for either semi or automatic modes. The most basic of basics and most balanced of the balanced assault rifles of teh lineup. A good weapon to carry around until you get the S-Tier ARs.
Unlock Requirement: None
AC-42
Next-generation Russian AR, the AC-42 utilizes a non-traditional bullpup layout to provide a compact frame without sacrificing barrel length and accuracy. A really good AR from the Russian side and has better stats than the M5A3. The only reason it is on A-Tier is its unforgiving unlock level requirement.
Unlock Requirement: 40
PP-29
SMG chambered for 9mm Makarov pistol rounds with a unique 53-round, under-barrel helical magazine that doubles as a foregrip. A good SMG to bring with decent range and burst fire.
Unlock Requirement: 18
DM7
Precision over rate-of-fire. With an extended 16″ barrel and flexible SOCOM RIS II mounting system, the DM7 can be configured for almost any mission. Priorities targets that can match your precision and range. A good starting marksman rifle with a good amount of ammo in a magazine.
Unlock Requirement: None
NTW-50
South African high-caliber anti-materiel rifle, designed for neutralizing engine blocks and gun emplacements. Able to destroy dreams at up to 1,500m. That range is impeccable but it suffers a lot of negative stats, bringing it down a notch. Also, that unlock level requirement is torture.
Unlock Requirement: 60
GVT 45-70
Old-School meets the demands of mid-21st Century combat. With modern sights and attachments, the 6-round custom GVT 45-70 is every frontiersman's dream. If you want a close-combat weapon with high damage and great accuracy, this is your gun to bring.
Unlock Requirement: 21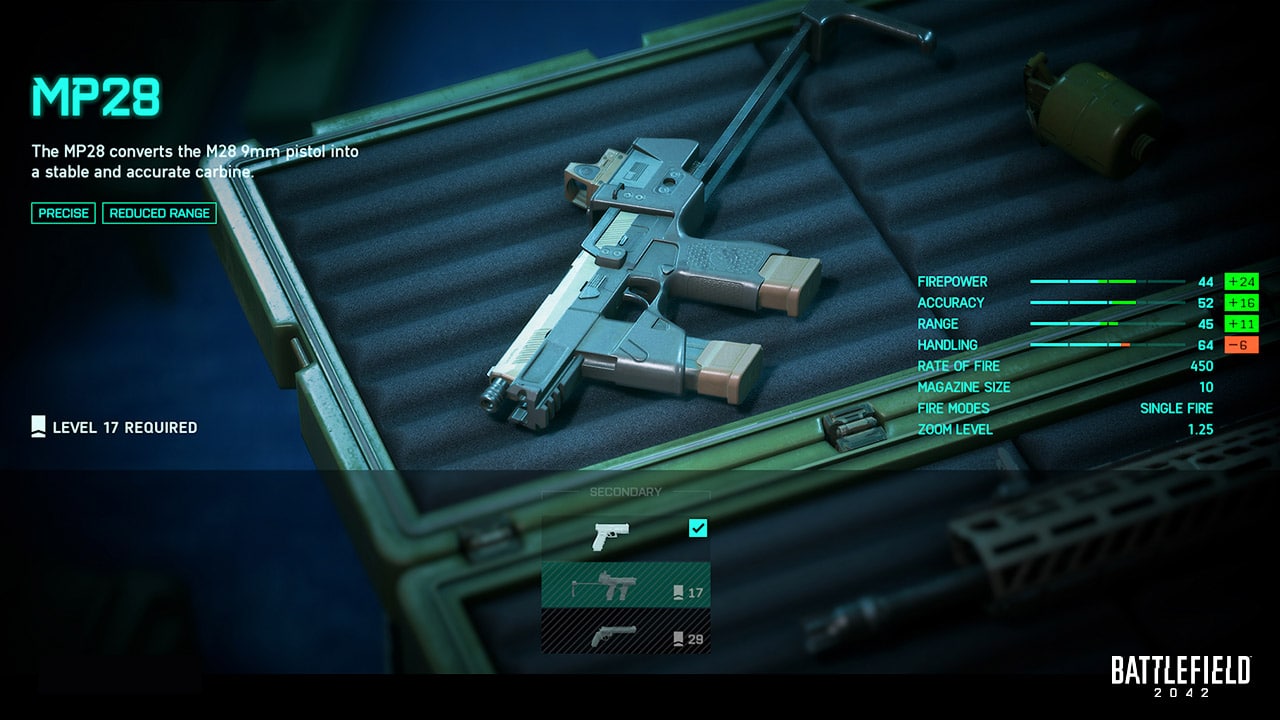 MP28
The MP28 converts the M28 9mm pistol into a stable and accurate carbine. A good secondary weapon to bring especially if your primary weapon is a Marksman or Sniper Rifle.
Unlock Requirement: 17
B-Tier
The second to the worst ranked weapons in Battlefield 2042. It is not their fault that they are second to the worst, it is just they were outranked by the upper ranked one. Make no mistake though, they are still the better weapons to bring compared to the next ones in rank.
AK-24
Lives up to all the hype of Russian ARs. Chambered for 5.45x39mm with three fire modes and a standard 30-round magazine. While it suffers a lot of negatives, it has that insane range for an AR. It just needs the right attachments.
Unlock Requirement: 11
K30
Unique recoil system redirects force downwards, helping to counterbalance barrel rise and increasing sustained fire accuracy compared to other SMGs. Despite the description, it has bad recoil and has an insane unlock requirement only second to the NTW-50 sniper rifle.
Unlock Requirement: 53
SWS-10
Finnish bolt-action sniper rifle made with a lightweight aluminum frame and adjustable/folding stock. A starting sniper rifle, but it has no other remarkable features compared to the others.
Unlock Requirement: None
12M Auto
Despite the Russian 12M Auto's close resemblance to the AR family from which it originates, there are glaring differences. Lock and load, comrades. A starting shotgun with so many negative effects, but has high damage. Better at close-ranged combat.
Unlock Requirement: None
C-Tier
The worst weapons to carry around in Battlefield 2042. They can fire shots, sure, but you would want a better weapon to use rather than these. Use them if you do not have a choice at the matter.
MP9
The Swiss MP9 is a compact, short-range submachine gun chambered for 9mm rounds fed from an extended 30-round magazine. A starting SMG with low specs, but has good handling at least.
Unlock Requirement: None
PKP-BP
Russian LMG with heritage. Effective support by fire with belt-fed 7.62x54mm rounds at a lethal 800rpm. Has a lot of bullets but the accuracy is quite bad. Also, it has a high level requirement to unlock.
Unlock Requirement: 32
VCAR
Portable, light-weight carbine – weighing only 3.8lbs, and measuring 22.5″ end-to-end with a collapsed stock. Ideal for stealthy, targeted operations when equipped with a suppressor. But why bring this type of gun when Battlefield 2042 is mostly about run and gun and whoever has the best hiding spot with a sniper rifle wins? Might be for someone who knows how to handle stealthy moves.
Unlock Requirement: 47
D-Tier
MCS-880
The MCS-880 tactical shotgun has remained a staple of the US arsenal for nearly a century. Aiming is optional. The worst of the shotguns to bring, but it has a good spread of pellets though. Again, aiming is optional, just get the timing right.
Unlock Requirement: 7
G57
Compact, lightweight, and reliable Austrian pistol. A starting handgun to bring when you have no other handgun unlocked yet. Better than nothing.
Unlock Requirement: None.
Battlefield 2042 has a good lineup of weapons at launch and has some pretty interesting stats to back them up. Based on the best modern weapons that the current and future military has to offer, they are very capable of taking down opponents if properly handled.
Hopefully this long list helps you out on choosing the best weapons to bring in Battlefield 2042.
Battlefield 2042 is now available on PC, PS4, PS5, Xbox One, and Xbox Series X/S.
Check out our other guides of Battlefield 2042 here: